Seventy Percent of B2B Enterprise Marketers Use Content Marketing as Their Top Solution Today and 45% Expect to See an Increased Investment in 2018
Informa Engage, the global leader in marketing services, releases a new "B2B Marketing Trends Report," which examines the key trends, challenges and priorities facing B2B marketers in 11 high-growth markets.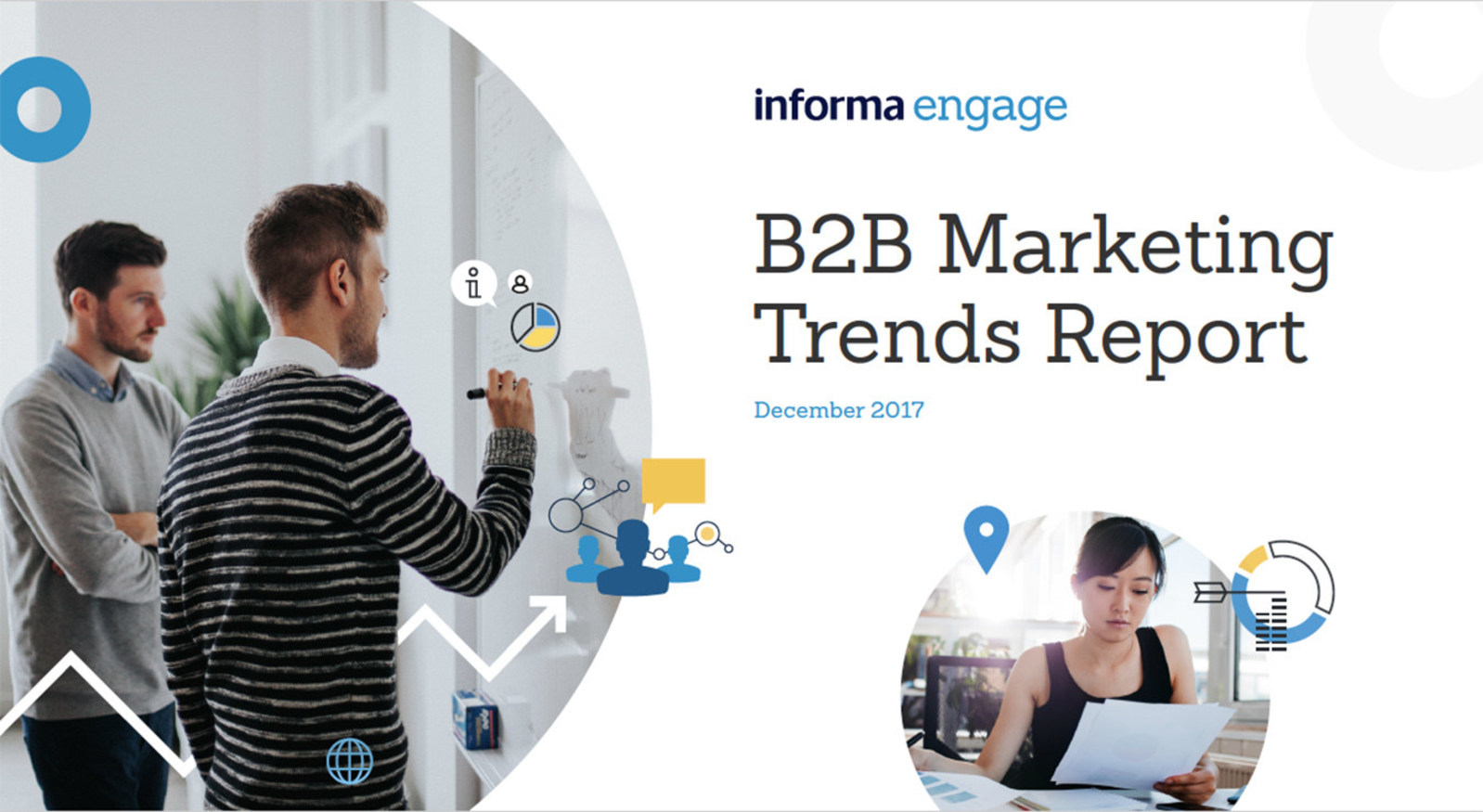 Results show that marketers' priorities differ by industry. For example, the percentage of vertical marketers who rely on content marketing ranges from a low of 23% to a high of 80%.
The top three verticals that rely on content marketing and are planning to increase their spending in 2018 are Technology (80%), Industry & Infrastructure (65%) and Financial Services (61%).
Key B2B marketing trends:
Marketers at enterprise companies prioritize events (83%), social media (72%) and content marketing (68%) as their top tactics to engage decision makers.
Measuring success/ROI is the top content marketing challenge for 55% of marketers.
Nearly half of enterprise marketers (45%) plan to increase their content marketing investment in the coming year and 42% plan to increase social media spend.
3 Top Areas to Watch in 2018:
Content marketing will become more sophisticated
Marketing will become more data-driven and personalized
Measurement gets closer to single view of user
Read More: First-Of-Its-Kind Subscription Streaming Service, INDISTRY TV, Announces Beta Launch
#1 Content marketing will become more sophisticated
B2B marketers will put their knowledge of the buyer's journey into action and shift from generalized content creation to developing journey-based strategies where content is mapped to each stage. Seventy percent of B2B enterprise marketers use content marketing as their top solution today and 45% expect to see an increased investment in 2018. This refined approach requires deep understanding of audience needs and industry motivators. To succeed, marketers will need to work with knowledgeable partners, such as publishers, to leverage their deep data resources. Additionally, topic-focused digital environments will emerge with a range of trusted editorial content, capitalizing on the "binging" behavior people have already demonstrated with entertainment content.
#2 Marketing will become more data-driven and personalized

Sixty-three percent of respondents said that audience quality is a critical consideration when selecting a media partner and 46% consider campaign performance and/or a proven ROI. Almost half of B2B marketers struggle with finding decision makers in the right place on the buyer's journey. Marketer's cite that better data–as well as personalized messaging–will play a key role to ensure the right content reaches the right people and creates more authentic engagement. Also, choosing the right partners, and looking at new ways to use data and algorithms for activities like programmatic media buying is expected in 2018.
#3 Measurement gets closer to single view of user

Over half of B2B marketers experience challenges in measuring the success of their content marketing programs. Demand for data that integrates into large enterprise systems will be expected as will more technologies to provide a single view of a customer. What marketers measure, however, will continue to evolve. Easier-to-measure tactics are proving their returns on investment and receiving increased funding. And vendors that supply marketing services will need to improve their ability to prove ROI on marketing campaigns to become valued partners.
Recommended Read: TMB Study Reveals How Social Media is Driving Returns on Digital Videos