Revealed During The EventTech 2017 Conference, The Latest Supergraphic Includes 245 Providers, A Nearly 2x Growth In Just Two Years
Cramer, a full-service brand experience agency, specializing in event and experiential marketing for global B2B brands, has released the fourth annual edition of its Event Technology Landscape. Originally inspired by Chiefmartech.com's popular Marketing Technology Landscape Supergraphic, Cramer's edition uncovers and categorizes the rapidly growing ecosystem of event and experiential marketing technology providers.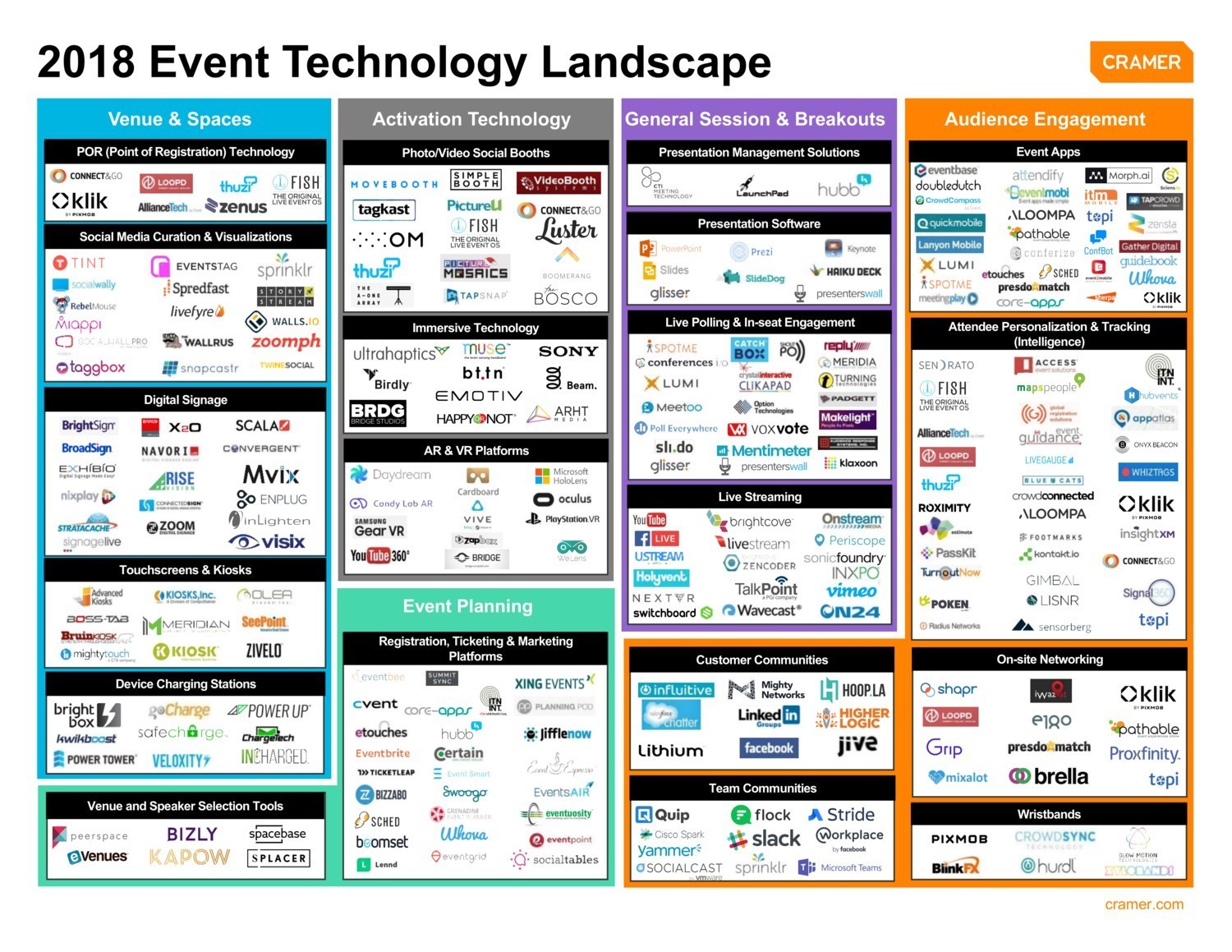 Revealed during Event Marketer's EventTech 2017 conference Cramer's Event Technology Landscape has become a popular, simple guide for exploring the hardware, software, and services for event planning, venue and space management, general sessions, breakouts, activations, audience engagement, and more.
"The 245 providers in our Landscape represents a nearly 2x growth in just two years. This growth corresponds with the acceleration we are seeing in event and experiential marketing as a whole. As more brands invest in live experiences, more startups and established companies are embracing emerging technologies and establishing completely new categories of event technology,"  reports TJ Martin, Managing Partner, Cramer.
"Right now, the hottest focus in event technology is attendee intelligence. The established event technology providers are creating and consolidating — via acquisition of startups and rivals — more and more offerings that generate, capture, and measure data. The more data we have, the more intelligence we can bring to our entire event experiences," says Lindsay Nie, Cramer's head of creative technology.
Over the past year, the industry has seen several examples of this consolidation. Loopd was bought by eTouches and Poken was acquired by GES. Where will the consolidation head next? "I predict the Event Chatbots will be bought up as fast as they are emerging," adds Nie.
Cramer is a brand experience agency. They claim to create experiences that fuel connections between brands and the people vital to their success. A 150-person strong brand experience agency with a 35-year legacy of delivering results for global businesses.
Recommended read: New Forrester Study Finds Data Transparency to be The Next Issue to Solve for Ad:tech Industry