Interactive Podcasting Platform Saycaster is 'First of Its Kind', Launches to Public After Private Beta
Interactive Podcasting Platform 'Saycaster' Releases Beta to Public; First Step in Adding Granularity to Podcasting
Los Angeles-based podcasting platform Saycaster has opened up their beta site to the public after a successful private launch with an intimate group of local podcasters. The platform, which allows podcasters to pin links, tweets and comments to specific spots in their audio, is free to use and has already been adopted by podcasters ranging from baseball commentary podcaster @TwoForThreeSTL to industry figurehead @TheYannilunga.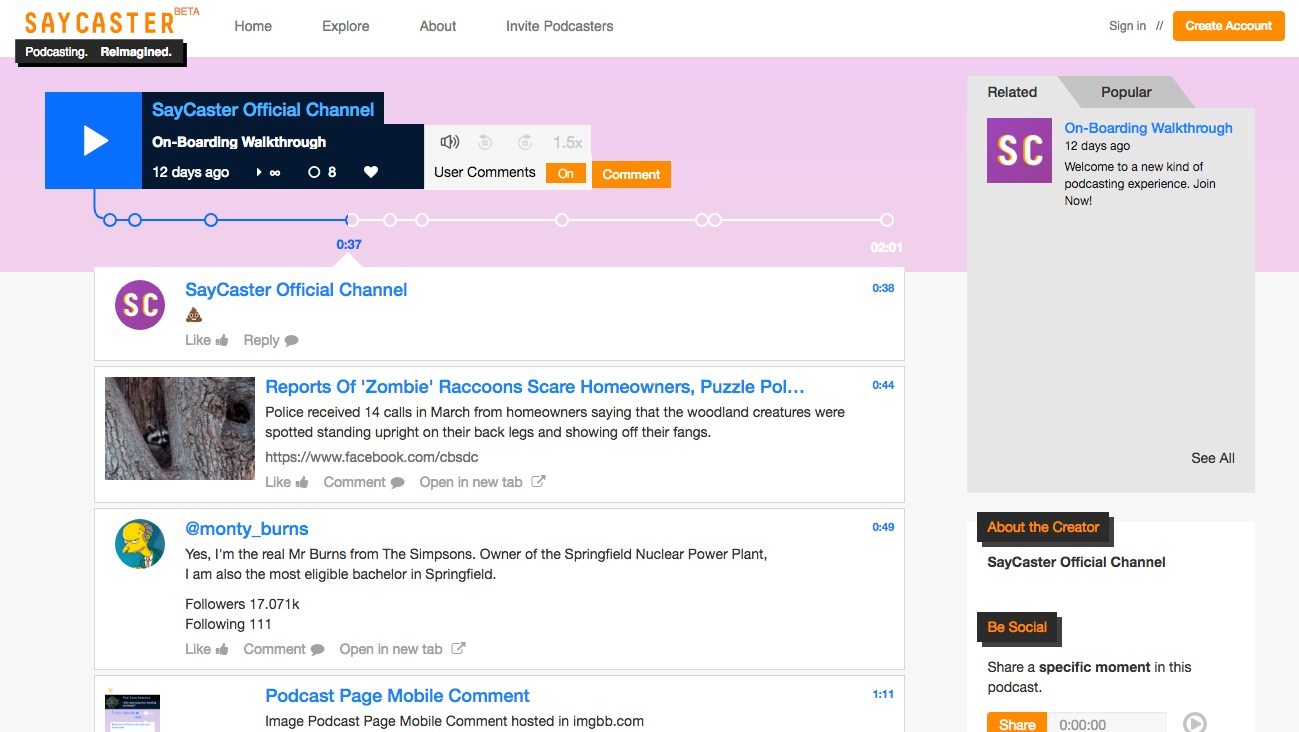 Positioned as a new kind of hosting platform, SayCaster allows podcasters to add 'spots' to specific moments in their podcasts, allowing listeners to engage and discuss around them – adding a level of granularity previously not seen in the medium. All brought together with a 'first of its kind' auto scrolling vertical feed that acts as a carousel of seamless discovery.
Also Read: More Creative Power To Interactive Content With Instant Magazine's Drag & Drop Editor
During the private release, SayCaster additionally discovered that one of the biggest pain points for podcasters was the general lack of audience interaction they could harness with the current hosting solutions at hand. "It quickly became apparent that there was a sheer lack of communication between the fans and the creators. We realized that by introducing a more dynamic podcast experience, we opened up the floodgates for two-way interaction to finally occur within the medium."
Key features of the platform include:
Podcasters upload their audio and add 5-20 spots to their podcasts.
These spots can be anything from links, to social media posts, to other videos or images.
Listeners can listen and comment on these specific spots
Dedicated IOS/Android apps in the works as well as the usual detailed listener metrics.
The emergence of SayCaster and other startups in this space represents an increasing interest in the podcasting industry as it continues to grow in both listenership and revenue. A study by Edison research found that in 2017, 67 million people in America listened to at least one podcast a month (up 14% from the previous year), with listeners on average subscribing to 6 podcasts each.
Also Read: Kaltura Acquires Interactive Personalized Video Startup Rapt Media
SayCaster believes that the growth in this space is a testament to its ability in filling the gap left behind from a steady decline in literary reading. On their current site, they explain "Not only do we enjoy podcasts, we really do believe that the humble podcast is the best medium for fostering important discussion globally. "
The co-founder Marcus Scott, whose goal is to overhaul podcasting says the current beta release has been designed with simplicity in mind. "We're just super excited to have validated the fundamental concept of pinning content to specific moments in podcasts. Now we can begin to implement the host of other features on the horizon."
When asked if podcasters have taken to the new concept, co-founder Symi Sonoma was happy to share that Saycaster's reception had already been very promising. "The feedback from the community so far has been overwhelmingly positive and they all say it's the first of kind they have been involved with. Yet we have also gained a better appreciation for some staple podcasting features that we can't neglect, RSS integration being an obvious one."
Upload your podcast to Saycaster and embed the player on your site to begin Saycasting.
Recommended Read: Ask Yourself, What's Bringing Audiences to Your Website?