SpatialTEQ Inc., publisher of North America's most advanced cloud-based business mapping software,  www.MapBusinessOnline.com, offers an affordable solution for customer visualizations against an accurate business map as a key business mapping feature. Detailed user-base application analysis shows that over 70% of customers use the web-based mapping tool for customer visualization purposes.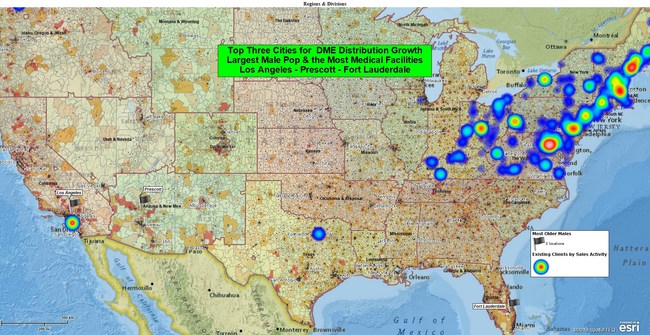 In 2018 Map Business Online continued an unprecedented rate of growth for the eighth year in a row. Also, in 2018 the Map Business Online feature set was expanded to include access to business listings for market analysis and lead generation; a natural enhancement to customer visualizations.
Marketing Technology News: LiveRamp Expands Its Omnichannel Portfolio to Add Connected Television in Its Measurement Platform
Customer Visualizations and Market Potential
Customer visualizations in a business mapping tool are typically derived from imported address-based or latitude/longitude-based locations. These customer location spreadsheets are imported onto a business map and represented by points or symbols.  Customer visualizations describe where business activity is occurring and may include textual labels and are often set against a backdrop of demographic data depicted as color-shaded ZIP code or county map layers.
Customer visualizations provide business map users with new perspectives on their current business activity, suggesting more efficient operations; future sales potential by area; and exposing business intelligence for strategic planning.
Marketing Technology News: Number of Paid Memberships on Leading Chinese Online Video Platform to Reach 100 Million in 2019, Technology and Innovative Content to be Key Drivers of Platform Development
Map Business Online business listings are now available as an additional layer for marketing and sales analysis. Business listings enhance market analysis by suggesting new business targets by industry segment and geography.  Based on successful sales and marketing strategies in existing coverage areas, business listings can point to potential markets outside of established sales theaters.
Customer Visualizations Applied
Map Business Online customers leverage customer visualizations for a variety of business analysis including:
Sales territory management and customer allocation by region driving sales accountability
The development of new market potential based on business success and demographic profiles
Reduced travel costs through more efficient optimized routing solutions
Thorough competitor business analysis
Strategic analysis based on sales trends, operational realities, and new market potential
The selection of business listings for business analysis and lead generation
Tracking the location of marketing, sales, and operational field assets
Marketing Technology Interview: MarTech Interview with Brian Zeug, General Manager, GBH Insights