Headquartered in Charlotte, North Carolina, Thumbvista is one of the top geofencing service providers in the country with mobile display ad campaigns launching across the globe daily. The launch of the company's newest mobile coupon offering expands the ability for clients to offer coupons through location-based advertising.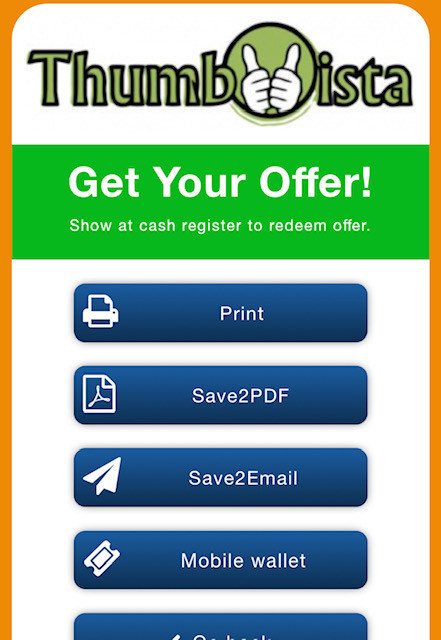 In addition to providing precise location and demographic targeting capabilities, Thumbvista's clients can now offer shoppers digital coupons, with mobile-friendly saving, sharing, and redemption features. The coupons are device agnostic, meaning they can be used by any mobile operating system, allowing users of both Android and Apple devices to access and save the coupon to their mobile wallet for later use.
Once saved to the device's mobile wallet, location-triggered notifications will also be enabled, reminding users of the coupon whenever they enter a specific range of a storefront.
Also Read: Certona Releases Enhanced SAP Commerce Cloud Integration to Personalize Customer Experiences
"The biggest value to the consumer and marketer is the saving features," said Linden Skeens, founder of Thumbvista. "This allows the consumer to see the coupon and save it to their phone in their mobile wallet or share it via email."
Though this feature was initially designed for Thumbvista's retail clients, other industries can take advantage of the coupon capabilities such as CPG, auto, food and beverage, medical and dental, attorneys, online retailers, and more.
Also Read: Nimble Rated Market Leader in Email Tracking Software by Office 365, G Suite Users on G2 Crowd
As part of the mobile coupon product offering, retargeting and redemption tracking capabilities have also been added, allowing clients to see the number of clicks, saves, shares, and uses of the coupon. Users could also be required to take a specific action prior to receiving the coupon, such as viewing a video or sharing via social media.
"Our clients want to ensure that their campaigns are effective and our new mobile coupon offering allows them to see the data, giving them more insight into their advertising efforts than before," said Linden Skeens.
Recommended Read: comScore Validates NinthDecimal's Location and Visit Metrics