Email Security and Marketing Pioneers Bring Powerful All-in-One Email Signature Marketing and Management Platform to Enterprises
Opensense, an all-in-one email signature marketing and managementplatform, debuted this week at the Marketo Marketing Nation Summit. Opensense transforms company email into an interactive digital media platform that brings transparency and opportunity to every outbound email.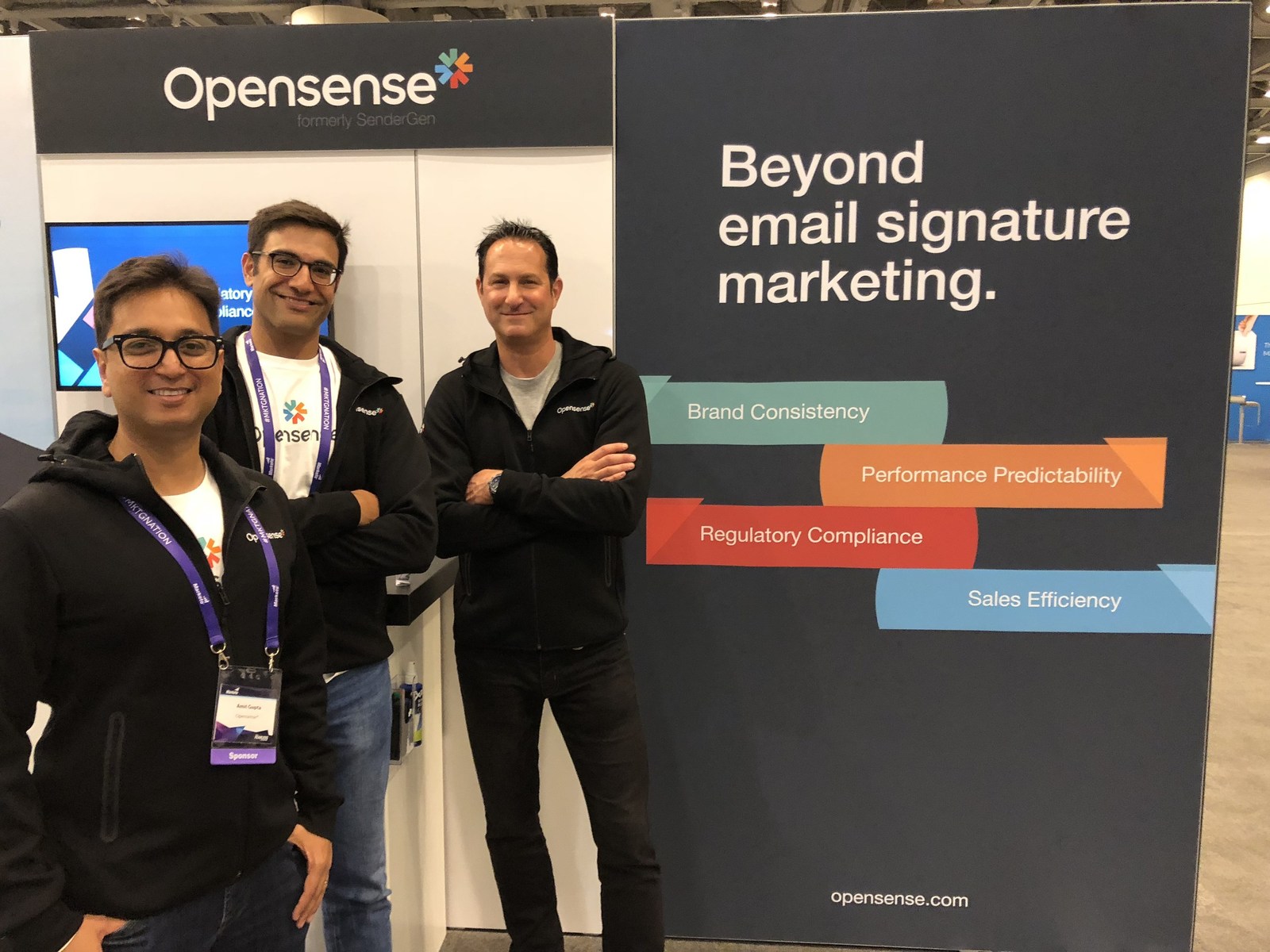 Business communication has shifted to become more human, transparent, and one-to-one. The way people communicate has changed, but email remains the dominant communication vehicle. By the end of 2021, the number of worldwide email users will be more than 4.1 billion. Additionally, approximately 269 billion emails are sent and received every single day. Yet, email signatures are the most under-utilized company asset. Opensense aims to change that.
Read More: Threadline Digital Brings New Measurements to Content Marketing
Opensense was founded by Michael Perone, email security innovator, marketing pioneer, and founder of Barracuda Networks, and SenderGen co-founders Amit Gupta and Bobby Narang. The Opensense brand was born out of SenderGen, in a move to expand beyond email signature marketing. Opensense enables companies to deliver highly targeted, brand-consistent dynamic content, and includes powerful tracking and analytics to help maximize responses from every outbound email company wide. Built for the enterprise and available for all corporate email systems including Microsoft Office 365 and G Suite, Opensense helps companies achieve:
Brand Alignment – Regain brand control and consistency with centrally managed email signatures
Sales Efficiency – Customize any outbound email signatures with roles-based messaging and Account-Based Marketing (ABM) capabilities, turning every employee into a sales leader
Performance Predictability – Increase response rates, forecast accuracy, and pipeline predictability by knowing which messaging resonates best with prospects and customers
Regulatory Compliance – Maintain compliance with dynamic disclaimer(s) for industry and regulatory compliance (e.g., General Data Protection Regulation or GDPR)
Opensense Email Signatures combine patent-pending technologies into a comprehensive, all-in-one platform designed to give brand owners more control over how employees portray the brand they have worked so hard to build. Opensense integrates directly with leading marketing automation and sales enablement solutions including Marketo, HubSpot, Pardot, Salesforce, and more. With Opensense Email Signatures, customers get instant access to:
Branded Email Signatures
Centralized Admin Control
Consistent (and Dynamic) Messaging
Accurate and Formatted Contact Details
Legal Disclaimers
Compliance Reporting
Dedicated Support and Service Team
Multi-Device Support: Any Platform, Any Device
Simplified Pricing
Read Also: Percolate Positioned as a Leader in Gartner Magic Quadrant Analysis for Content Marketing Platforms
QUOTES:

"After founding Barracuda, I've looked at a number of technologies and projects where I might want to spend my time — and it's a great time for tech innovation to be sure," Michael Perone, founder and EVP at Opensense. "When I met Amit and Bobby, I knew the SenderGen team and technology were something special, particularly with the platform they've built and associated data. Being able to expand the resources, and with my background in email security and building successful global brands, Opensense is uniquely positioned to bring high value and transparency across the enterprise with every opened message."
"We've spent the last five years or so talking with thousands of companies, and have some tremendous learnings," said Amit Gupta, founder and CEO of Opensense. "First, email remains the dominant business communications tool, and the email signature remains the most under-utilized company asset – regardless of company size. Email signature marketing is certainly an opportunity, but we believe that's only the beginning. We started off as a technology platform aiming to change the DNA of corporate email. We've built a sophisticated and unmatched set of data and analytics that gives brands more power, transparency, and control than ever before. I'm personally thrilled about having Michael come on board and working together to grow Opensense into a worldwide SaaS technology leader."
"Opensense is more than just email signature marketing. We empower companies to turn their employees into brand advocates, sales leaders, and business drivers – while staying compliant with industry and regulatory requirements," said Bobby Narang, founder and VP of sales for Opensense. "Customers are looking for a comprehensive way to manage all aspects of the brand – whether it's for marketing, sales, IT, or even legal and compliance – and Opensense delivers. Opensense helps companies strengthen brand awareness and communicate brand value and commitment in a highly targeted, meaningful way."