Unified Platform Connects National Advertisers with Addressable TV Suppliers to Enable At-Scale, Data-Driven TV Campaigns
Cadent, the leading platform for advanced TV, launched its next-generation addressable TV platform for advertisers, media planners, and networks. The new Cadent Advanced TV Platform provides a simplified workflow that connects national addressable TV demand with Cadent's inventory partners.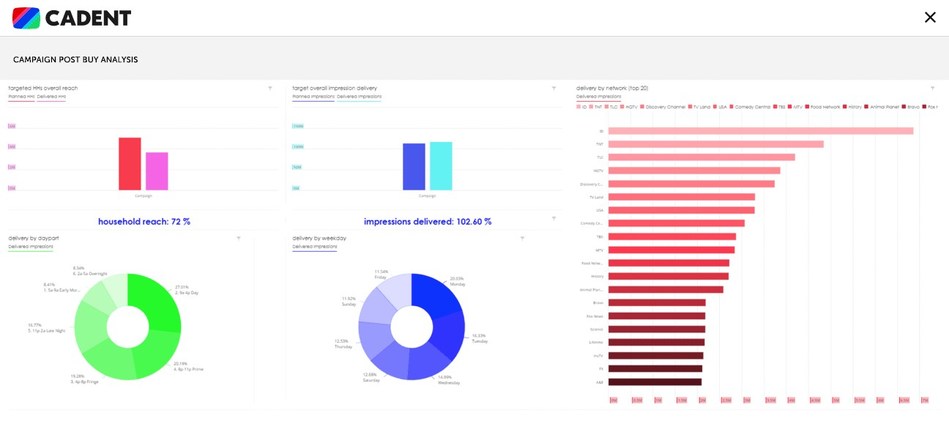 "Television, the most powerful storytelling medium, must evolve to satisfy the needs of today's analytics-savvy advertisers," said Eoin Townsend, Chief Product Officer of Cadent. "Cadent's mission is to help the TV ecosystem evolve to this data-driven future, and with this launch, we've taken a huge step forward for our advertisers and pay TV partners. We've streamlined the complexities of household addressable TV campaigns to help accelerate spend, while helping our partners expand the reach of their unique supply to meet the needs of national buyers."
With Cadent Advanced TV Platform, advertisers can plan and optimize against customized marketing goals including sales or brand lift, customer acquisition or reactivation, and competitive conquesting. The platform provides unified reach, frequency, and attribution across its addressable (linear, IP, and VOD) supply. Using the integrated TV data ecosystem, advertisers can build custom target audiences using first-, second-, or third-party data that are anonymously matched to US addressable households.
Also Read: Fuel Travel and Blueshift Partner to Revolutionize Hotel Marketing by Creating Industry's Most Advanced Marketing Automation Platform
To date, Cadent has delivered more than 3,000 addressable TV ad campaigns.
The Association of National Advertisers (ANA)* and Forrester found 70 percent of advertisers still view traditional TV as the most effective means of achieving long-term brand building objectives, and that these advertisers are increasingly incorporating the data-driven approaches of addressable and advanced TV into their plans. Specifically, 15 percent of ANA members reported that they are incorporating addressable and advanced TV buying techniques into their plans, with another 20 to 30 percent testing these approaches this year.
Jim Nail, principal analyst at Forrester, notes in The Inflection Point for Addressable and Advanced TV is Here Now. Really** that "as this inflection point draws more advertisers in categories like auto, travel, and financial services into using addressable ads, the long-expected change in the TV ad industry will come to be. TV planners and buyers will need to develop new data skills and new frameworks for building TV campaigns to take full advantage of the potential."
Cadent Advanced TV Platform eliminates fragmentation issues, making it easy to plan, buy, and manage campaigns at scale. With Cadent, brands and agencies can reduce waste, gain planning efficiencies, and have full transparency into the results. Earlier this year, the company consolidated its various brands: Cross MediaWorks, Cadent Network, Cadent Technology (formerly BlackArrow), and one2one media into a unified new brand.
Recommended Read: Comviva Launches Unified Digital Experience Platform