Ronnie Coleman Releases 'The King' Movie, Reveals Supplement Company New HQ and Teams Up With YouTube Star Deddy Corbuzier
RCSS Has Been Busy in 2018: 'The King' Movie Release, New HQ Facility and Partnering w/Global YouTube Star Deddy Corbuzier
At the start of 2018, Ronnie Coleman Signature Series alluded to substantial company growth with the need for a much larger headquarter facility that would not only fulfill the need for increased warehousing space but also provide a build-out for a corporate gym. Since then, the new company HQ has been completed along with the corporate gym. The gym will serve as a great bonus for employees but also as an on-site location for media.
"First, it just wouldn't be right for Ronnie Coleman's supplement company HQ to not have a gym! We did have a gym in our previous facility that certainly got the job done and was a great bonus for everyone, but it wasn't exactly 'photo shoot'-ready. With growth driving the need for a new HQ building, our gym also received a massive face lift which allows us to produce extremely high-quality content right here in-house," said Derek Ciocca, CMO.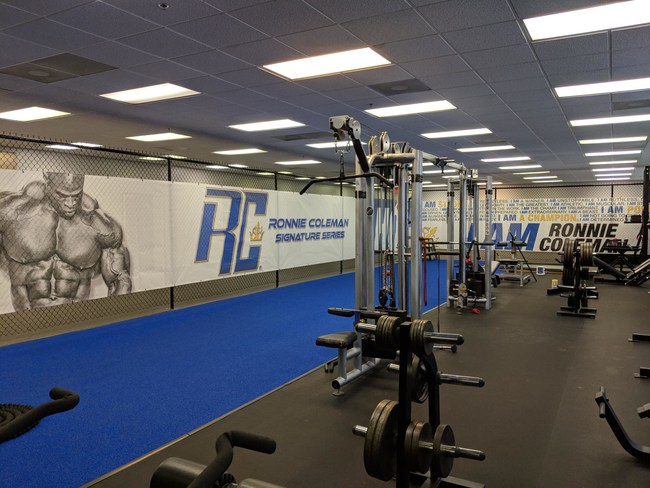 The corporate gym includes an Olympic squat platform, various cardio machines, free weights, cable machines, a full rack of dumbbells and a cross training area complete with company-colored blue field turf.
Also Read: Coveo Named a Leader in Gartner Magic Quadrant for Insight Engines Again
The need for this new facility and space was driven by overall company growth in multiple channels including direct to consumer sales via RonnieColeman.net and Amazon which required warehousing higher quantities of current products as well as making room for new items.
One of those new items is a 10lb version of RCSS' most popular-selling whey protein powder "King Whey."
"As a global brand, we work very closely with our international distribution partners on market trends and we saw a very real demand for a larger size of our top-selling protein powder. So, we went to work and created a 10lb version of King Whey that offers our end consumers the ability to stock up while reducing their price per scoop. Not a new idea by any means but staying in tune with our customers and delivering what they want in a timely manner is extremely important, even if it is something as simple as a new size or flavor," said CEO Brendan Ahern.
Also Read: Mantis Vision Raises $55 Million in Series D Funding, Announces Joint Venture with Luenmei Quantum Co. Ltd.
Ronnie Coleman also listened to his fans and delivered something that they likely have been wanting for some time now. Generation Iron, a top fitness media company, produced a documentary on Ronnie Coleman's life titled "Ronnie Coleman The King" that was released June 22. At one point during the release, Ronnie's movie was ranked No. 1 in the documentary section of iTunes.
"I had a great time making this documentary and it was easy because all I had to do was be myself. I never expected it to hit No. 1 in the iTunes documentary section. I'm really excited to see what happens when it is released on Amazon Prime video and Netflix. I have to thank all of my great fans from around the globe for making this possible," said Coleman.
Ronnie and his company understand how powerful content marketing can be, especially on social platforms. That's why they have partnered with global YouTube star Deddy Corbuzier, making him their first RCSS World Elite Athlete. Deddy is massively popular all over Asia with a YouTube subscriber count of 1.5 million and an Instagram following of 2.6 million.
Recommended Read: Nielsen Marketing Cloud DMP Ties in With Snapchat's Ad Buying Platform