bpm'online Introduces Major New Features to Its Intelligent Platform for Business Process Automation and CRM
bpm'online, a global business software company leading in the space of business process automation and CRM, announced the release of the latest version of its intelligent platform that enables enterprises to create and automate business processes, and manage their relationships with customers and key stakeholders. bpm'online 7.13 adds value in key areas to make enterprises more effective in building, optimizing, and maintaining effective processes.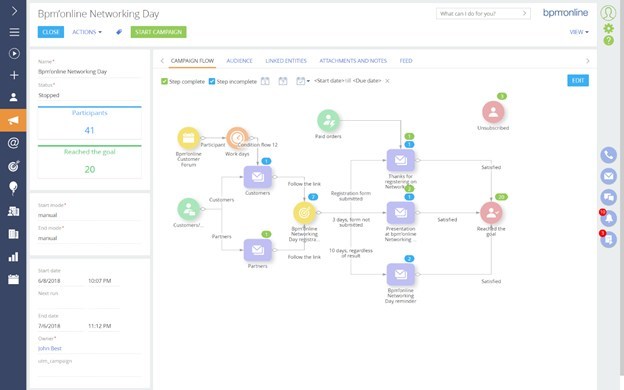 "At bpm'online we know you can't have excellent customer relationships without powerful business processes. This release builds on our industry-leading capabilities in business process automation and CRM, and represents our ongoing efforts to deliver immediate value for our customers' business practices," explained Katherine Kostereva, bpm'online CEO and Managing Partner. "By listening to our customers and focusing on providing solutions to core challenges organizations face, we enable enterprises to transform their business practices to integrate separate functions and more closely align with their customers' needs."
Also Read: Oracle Eloqua Innovations Accelerate Lead Generation and Increase Conversion Rates
bpm'online 7.13 addresses five key operational areas – marketing, sales, service, operations, and citizen development.
Enhancements to accelerate marketing
Quickly and effectively plan and execute marketing strategies and campaigns. Enhancements include:
New elements to launch campaigns by trigger events
Upgraded campaign page layout
Macros in the email subject for better email personalization
Integration with WordPress landing pages
Brand new Account Based Marketing (ABM) tools
Enhancements to accelerate sales
Leverage more effective sales processes and opportunity tracking with new features including:
Extended predictive tools for opportunity scoring
Enhanced eCommerce capabilities with smart eCommerce gateway
Enhanced billing tools with Payment gateway
FedEx integration for simplified delivery of goods sold
Pre-set integration with Exact Online ERP
Also Read: Marketo is a Leader in the 2018 Gartner Magic Quadrant for CRM Lead Management for Seventh Consecutive Year
Enhancements to accelerate service
More closely align service processes with other aspects of business operations with new features including:
Improved UI for case management
Capability to create new cases from an existing case email thread
Extended survey management capabilities
Enhancements to accelerate operations
Users and administrators will enjoy expanded toolset to accelerate day-to-day operations and boost productivity. Enhancements include:
Improved project management capabilities
Instant data indexing in global search
Expanded text formatting for Notes and Emails
Enhancements of deduplication and data import tools
Simplified real-time contact and lead data synchronization with third-party systems
Advanced GDPR toolset
Enhancements to accelerate citizen development
Citizen developers can more easily deliver new features based on the needs of the enterprise. Enhancements include:
Creating custom machine learning models without coding
New intelligent process management tools
New capabilities to configure integrations
PostgreSQL support
Support for a fail-safe Redis server configuration
Recommended Read: SendGrid Taps Carrie Palin as Chief Marketing Officer