Roxot's Beta Customers Report up to 35% Increase in Google AdExchange Revenue
Advertisers spend more on programmatic channels each year. In 2018, 82.5% of all US display ads will be bought via automated ad buying. Next year that number will grow to 86%.
Programmatic advertising attracts buyers with reach audience targeting capabilities – they buy impressions to specific audiences on a variety of websites. Automatic algorithms purchase ads based on where the identified target audience is. The buy-side technology participates in 100s millions of auctions an hour and adapts its bids to win more ad auctions for a limited budget.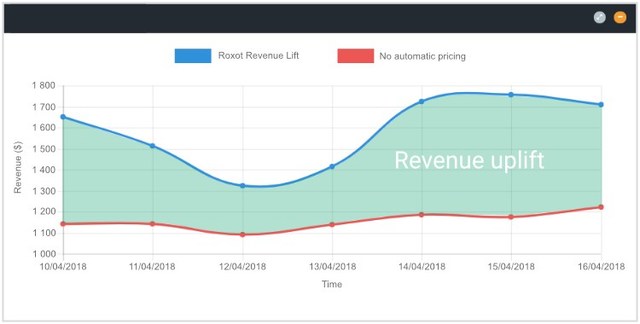 Also Read: InsideSales.com Announces Next-Gen AI Technology for Sales 
Publisher's revenue directly depends on their audiences – advertisers will pay a premium for users they know and users similar to their customers. However, publishers don't have the technology for audience-based inventory pricing. They are forced to manually adapt their pricing strategy which is ineffective in automatic ad buying environment. As a result, publishers undervalue their inventory to minimize unsold impressions.
"We noticed that our audiences directly influence the advertising revenue. And we've been looking for technologies to use visitors' behavior to generate more revenue for a while." – says Kapitanova Anastasia, Head of Programmatic & Data at Independent Media.
Artificial Intelligence and automated algorithms will help publishers identify audience patterns and price them according to the demand. Similar to the buy-side algorithms, the sell-side technology will analyze website visitors, their behavior, and the demand for their attention.
Also Read: Simplaex Raises New Capital in Follow-On Round to Strengthen Its AI Technology Efforts in the Programmatic Ecosystem
Roxot officially launched Roxot Revenue Lift – dynamic inventory pricing product that applies audience-based approach. The technology is a publisher's response to the buy-side algorithms. Roxot Revenue Lift automatically prices the publisher's inventory in Google AdExchange – the biggest adexchange in the world. The technology analyzes RTB auctions and visitors to predict what buyers are ready to pay for a particular user or audience. It finds optimal prices for different types of users and makes sure Google doesn't buy publisher's inventory cheap.
Roxot's beta customers report up to 35% increase in Google AdExchange revenue. "Roxot Revenue Lift is a state-of-the-art revenue optimization tool for modern publishers. Programmatic advertising becomes more and more complex, be surrounded by experts is an unconditional factor to increase your Yield. Roxot has brought transparency to our bid landscape and has boosted our ADX revenues by implementing their algorithmic AdX floors optimization", says Fabien Michel-Langlet, Co-Founder & CEO at Evothink Media.
Recommended Read: AI Breakthrough Announces Inaugural Artificial Intelligence Breakthrough Award Winners