So LinkedIn decided to shut down the SlideShare Lead Generation product.
Are you walking around aimlessly wondering what to do with your content and how you will produce leads this month? So many questions without answers.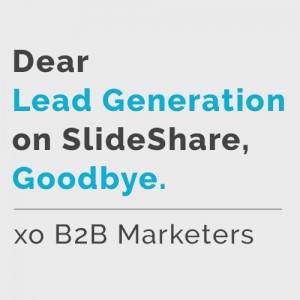 Snap out of it, this is great news! The sunset of LinkedIn SlideShare may actually prove to be a win, as this product may have been underperforming on your goals (whether you realized it or not). Yes, you had an easy to use a self-service performance-based product, all good — BUT where was the quality aspect? You paid a nice low CPL and in return received a list of leads that included every person who requested your content in your set geographic region, whether they fit your accepted target customer persona or not…to be clear that included: students, interns, contractors, retirees — all of the above were acceptable leads by SlideShare standards.
Yes, maybe you saw the high top of funnel volume, but if 75% of the leads did not match your company's accepted job function, job level, company size, or industry, how far did these campaigns actually take you? Starting to see the light? Let's keep going…
Onto Bigger and Better Things:
Now, you're shopping for a new solution to fill this big lead generation hole in your life, here are the features I believe you want and need:
1. Content syndication
2. Lead generation
3. Cost-per-Lead (don't waste your money paying for traffic or impressions if you want leads)
4. Controlled budget
5. Volume and scale
6. Self-service management
7. Professional-level targeting capabilities — NEW!
8. Lead criteria — NEW!
9. Campaign reporting — NEW!
…am I right?
Professional-Level Targeting & Lead Criteria
The biggest voids in SlideShare's solution were professional-level targeting and lead filters, but maybe you didn't realize these were possible? To run the most effective CPL campaigns (first of all, always go CPL over CPM and CPC) you need these two elements: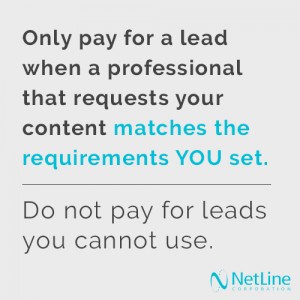 Identify who you want to capture – your target audience: Going beyond the basics of geographic region, gender, and affinities, narrow in on your companies target personas by job function, job level, company size, industry, and geo.
Run a lead generation campaign that only accepts leads matching your lead criteria: Only pay for a lead when a professional that requests your content matches the requirements YOU set, including: by job function, job level, company size, industry, and geo. You may find that one or two of the lead criteria options are critical, while others such as 'industry', you are willing to accept professionals from all industries.
These two factors sound so obvious but are not available in many solutions today. It's quite simple, do not pay for leads you can't use.
Campaign Reporting:
Yes, SlideShare provided a report listing the leads captured per campaign; however, it would be nice to go a bit deeper wouldn't it? Marketers want to get their hands on the meaty insights that are going to help optimize campaigns — and they want them fast. Understanding the variations in the type of content requested by a professional's job level or industry can be extremely valuable — and also visualizing performance in comparison to your lead generation goals can be quite eye opening. Access to more advanced campaign insights empowers you and your team to make quick pivots to run the most optimized campaigns and generate the leads you need to be successful.
So, What Now Day Dreamers?
It is important for B2B marketers to know that SlideShare was not the only solution offering low-cost self-service content syndication lead generation, nor was it the best in the show. Clearly, I know these features exist or else I wouldn't be rambling on about some fantasy land of expectations.
NetLine Portal offers B2B marketers of all industries and company sizes full control to create, manage, and optimize content syndication lead generation campaigns. Reaching 125 million unique monthly visit

ors and generating 70 thousand leads monthly across 300 industry sectors, marketers can upload content, set their target audience, lead criteria, and budget to launch a campaign in minutes with the NetLine Portal.
Campaigns start at $9 per lead and are strictly performance-based, you will only pay for leads that match your criteria. Additionally, enterprise-level solutions run by NetLine's team of lead generation experts are also available.
Create a free account instantly without commitment or request a demo from the experts.
It's a New Day
Have I convinced you to stop mourning the loss of the LinkedIn SlideShare lead generation product? I sure hope so. You can do better. Just remember, if your goal is lead generation, run a campaign that is structured to deliver leads via a COST-per-LEAD pricing model — and while you're at it only pay for leads that meet your specified criteria.