Helpful, Personalised and Customer-Focused Campaigns Drive Reader Engagement in Business-As-Usual Emails
"Customer Experience Email Marketing: Getting Ahead of the Consumer," a new report from Liveclicker and Holistic Email Marketing, answers this crucial question: "What's the state of Customer Experience Email Marketing in today's inboxes and how are marketers balancing their business goals with their customers' needs, wants and objectives?"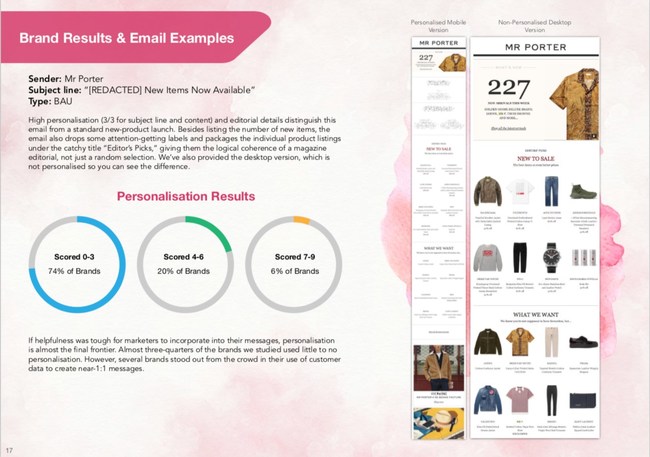 Why this research now: Although email is a strong channel for retail and other ecommerce marketing, many marketers are seeing customers tune out. It's easy to see why: Message after message in the inbox asks, "What can we sell you today?" Not "How can we help you today?"
Also Read: Voxpopme Appoints New Vice President of Customer Success
This essential customer-service question sums up the three pillars of Customer Experience Email Marketing (CX Email Marketing): helpfulness, personalisation and customer-focus. CX Email Marketing finds the balance between customer and company goals. Brands achieve their goals and objectives by helping customers achieve theirs, not just selling to them.
Goals of the research: The study, which involved studying emails in three categories of non-transactional emails sent by 82 travel and retail brands to UK recipients, aimed to establish how well brands are putting the principles of CX Email Marketing to work now.
Equally important, the research aimed to correlate reader engagement with a CX Email Marketing approach with this hypothesis: "Putting the three pillars of CX Email Marketing to work in an email campaign will deliver higher engagement results."
Also Read: Top B2B Companies in Chile, Peru, Ecuador, Paraguay, Venezuela Announced for 2018
3 Top Findings
1. Overall, brands have a long way to go. Brand emails scored highest on helpfulness and lowest on personalisation, although each score was well below average for each CX pillar.
2. Emails that scored above average earned higher reader engagement for the brand than emails scoring below average. Also, those higher read rates tended to be significantly higher, often more than double.
3. Brand performance on the three CX pillars often was inconsistent. Some emails scored high on one or two of the three CX pillars but low on others. Often, these weren't consistent throughout their campaigns.
3 Key Takeaways
You don't have to tear everything down and start over. Instead, you can build on what you have accomplished already when you want to move up to CX Email Marketing.
Making your emails truly customer and service-focused will require some investment of time, but the rewards will repay your efforts. Turn the question around and ask it of yourself: "What's in it for me to evolve my programme to CX Email Marketing?
 CX Email Marketing has a "halo" effect that makes all your other emails more attractive to open and act on. One example from the research: One brand scored well on helpfulness and personalisation but poorly on customer-centricity. Despite that, the brand achieved a high overall ranking in the study.
Recommended Read: Apple and Salesforce Join Forces to Deliver the Best Business Experiences