Vyrill Releases Industry First Research on the Correlation Between User-Generated Content and Auto Sales
Vyrill has released the first of its kind auto research focused on user-generated video content (UGVC).  Vyrill evaluated organic and paid non-branded light-truck videos created by consumers during the first half of 2018.  The findings identify the percentage of authentic (non-paid) influencer videos produced for each of the major light-truck brands in the United States.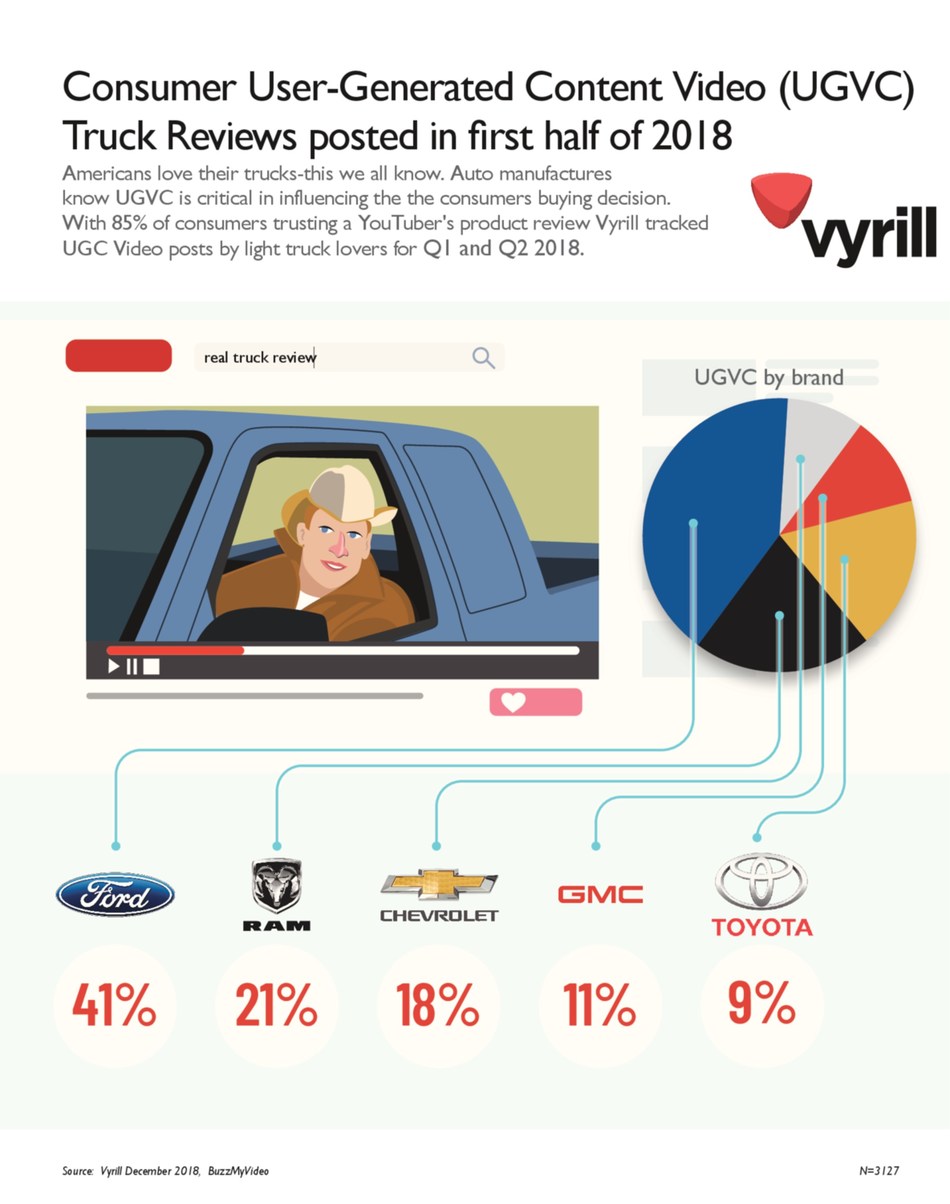 "We all know Americans love their trucks.  We also know authentic video reviews from everyday drivers have a massive impact on the buying decision process.  Therefore, we wanted to see if there was a coloration between the percentage of videos posted and the percentage of vehicles sold.  As the findings show, the Ford F-150 is not only the leader when it comes to sales, but also in Americans posting videos about their favorite truck.  In fact, 41% of all light-truck UGVC posted in the first half of 2018 was for the Ford F-150.  This is approximately 9 points higher than Ford's sales volume percentage.  As we are tracking information for the auto-category we see a similar correlation between UGVC and sales volume against all vehicle types," says Ajay Bam, co-founder and CEO of Vyrill.
Also Read: Scout RFP Raises $33 Million to Define the Future of Strategic Sourcing and Procurement Including Investments from Scale Venture Partners and Workday Ventures
Founded by Ajay Bam and Dr. Barbara Rosario, Vyrill is a UGVC video discovery, analytic, licensing and content marketing platform powered by proprietary AI technology to enable social commerce and product marketing.  Vyrillevaluates and reports against all paid and UGC video content across eight distinctive data groups:  topic, scene, sentiment, demographics, diversity, video platform statistics, brand safety and influencer data.
Recommended Read: Funds Advised by Apax Partners Invest USD 200 Million in Fractal Analytics