Large Enterprises Finally Measuring Impact Of AI On Human Resource Platforms With Textio
Textio, the developer of the world's first augmented writing platform, announced a host of new product features and updates designed to address the needs of large organizations looking to bring in leading talent. Enterprises are under increasing pressure to deliver measurable improvements in their hiring pipeline and they are turning to artificial intelligence (AI) solutions. While AI solutions for HR organizations have gained in popularity, few delivered real, substantive impact backed with results. Textio stands out by making a quantitative impact on the hiring results of large enterprises including NVIDIA, CVS, and Credit Suisse. As more and more enterprises have adopted Textio, the product has evolved to meet the unique needs of large scale companies including better organization of documents and analytics tracking by team.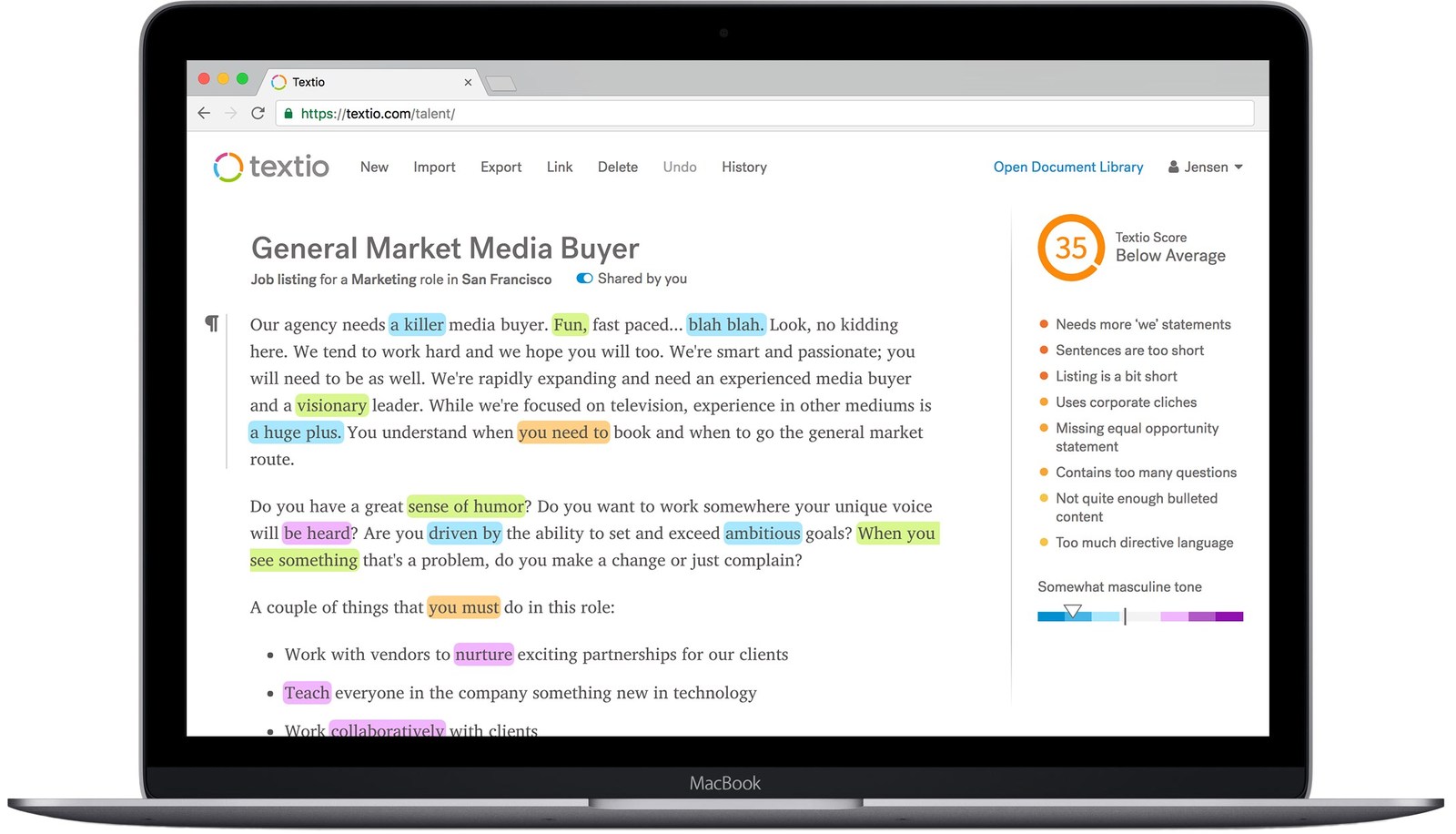 Textio uses AI to predict how different people will respond to written content, and shows writers exactly why, so they can make performance improvements before a document is ever published. The company's first application on the platform is used for writing job postings that perform better in the real world. Typically, customers using Textio attract 25% more candidates qualified enough to interview, get 23% more applications from women, and they fill roles two weeks faster than they did before using Textio.
"With roughly 1 million applicants for more than 25,000 job openings each year, Johnson & Johnson is in a rare position to disrupt the talent acquisition process. We've been impressed with the data and guidance delivered by Textio. In our first few months of using Textio, we saw a 9% increase in female applicants, which is helping us to achieve our goals to have a workforce that reflects our surrounding community,"  said Sjoerd Gehring, VP of Talent Acquisition, Johnson & Johnson.
"Textio has taken the mantle as a leader in AI for HR platforms. After using Textio, customers see measurable changes in their hiring pipelines. As Textio has continued to attract forward-thinking enterprises, we have built more robust features to help them achieve their goals including improving workflows, single sign-on, the ability to organize work in teams, measurement at scale," said Kieran Snyder, CEO, Textio.