To enhance the user experience and serve their needs better, Cyford Technologies recently redesigned its website. This refurbishment of the site is seen as an important step to engage the National B2B market with its new and improved E-Com Solutions, Digital Marketing Services, Web Development Services, Web Designing Services, and all-round IT services.
Marketing Technology News: Tiffany Vasilchik Joins Magid as SVP of Growth Strategy, Consumer & Commercial Brands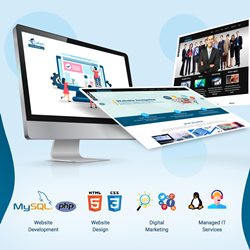 With the enhancement of the website, Cyford Technologies hopes to become one of the most widely connected IT Services nationwide. Further, this will herald a new era in the company's customer service strategy as it will simplify the process of hiring an IT service and regulating it on customers' end.
Through this account, the clients will now have the freedom to track their order
Check the progress in the project
Customize their order
Highlight new changes if any
This is a revolutionary step in company & client-interaction. This new feature will allow the uninterrupted progress of the project by removing the disruptions that are caused by the communication gap. The new website design will also let customers easily find and select the services they search for without any hassle. The user-friendly interface, easy navigation, and completely updated list of services presented in an aesthetically appealing manner will extend an improved buying experience to the customers.
The website now lists a wide range of services which include,
Web Development,
Web Designing,
Digital Marketing,
Managed IT Services such as Linux Support,
IT Support Services
As such, the website will be a one-stop hub for all sorts of e-commerce solutions.
Visitors can browse through a variety of services as per their requirements and check all the details related to the price of the service with a click of a button. Cyford Technologies has been already recognized as a reliable name for offering quality IT service and digital marketing solutions in the local market for the past 20 years. It has a team of highly credible in-house engineers having years of experience in delivering over 1500 projects using different frameworks and languages.
Marketing Technology News: Lucid Celebrates 1 Year Anniversary of Democracy Fund + UCLA Nationscape Survey Project
Talking about the redesigning of the website, the CEO of the Company Mr. Allen Ford mentioned, "our goal is to become a household name, as one of the most budget-friendly IT companies. The refurbishment of this website is in tune with our mission and vision to bring affordable e-commerce solutions to the B2B market and in the long run, become the one-stop hub for all digitalization needs of businesses in every field".
Cyford Technologies has always ensured that local entrepreneurs get an equal opportunity to take their business online even in a limited budget. With the remodeling of the website, the company plans to introduce a range of affordable and quality IT services at the national B2B market as well.
Marketing Technology News: LG SIGNATURE Partners With Global Style Icon and Fashion Entrepreneur Olivia Palermo