Crowded Cloud's Launch Means That Entertainment Professionals Could Dismantle Hollywood's Traditional Studio Decision Making Culture
In a move that stands to take blockchain's impact on the entertainment industry to the next level, Crowded Cloud, a new platform to decentralize how TV and film projects are launched and funded, has partnered with video upstart Verasity.
Hollywood studios rely heavily on a narrow circle of creative artists, filmmakers, producers and production houses. Exclusion from these cliques is common, and the work outsourced to independent artists, technicians and craftspersons is underpaid. In Crowded Cloud's decentralized platform, however – everyone from producers to investors to art directors — will be able to vote for, fund, produce, and profit from television and film content format conversion from existing media into augmented reality (AR), virtual reality (VR), three-dimensional (3D), and/or enhanced two-dimensional (2D) formats.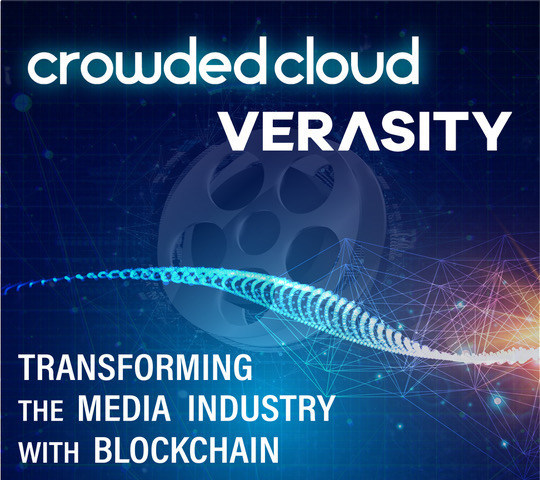 Also Read: Partnership Between DataBlockChain.io and Virtual DBS Enhances Power of Blockchain Technology Using Predictive Analytics
"By incorporating blockchain technology, automated image processing, and traditional computer visual effects, Crowded Cloud will enable a global workforce to effectively participate in the creation and enhancement of new projects," says Javier Benavente, founder of Crowded Cloud. "Through our integrations with the excellent teams and technologies offered by Verasity, which will provide Crowded Cloud's platform with new content distribution models, we are poised to make an enormous impact on all facets of the entertainment industry."
Effectively, Crowded Cloud's launch means that entertainment professionals could dismantle Hollywood's traditional studio decision making culture. For example, a few self-empowered individuals passed on the rights to Marvel characters because they thought the properties had little value. Marvel had to establish its own studio to develop its library, and over the past 10 years Marvel Studio's 17 releases have grossed more than $16.8 billion worldwide.
"Blockchain-enabled and market-driven ecosystems have the power to change the media landscape. Crowded Cloud seeks to use blockchain to decentralize Marvel-like decision making and transparency to the greater cross-section of television and film industry stakeholders," says Benavente.
Also Read: DLive, the World's Largest Streaming Platform on Blockchain, Launches on Android
Verasity Integration: 

Verasity's blockchain-based video sharing platform, which offers users and content creators an alternative to YouTube, gives viewers a chance to earn "VERA" tokens from watching ads and sharing videos. Further, video creators wanting to expand their channel can leverage the token to crowdfund. Verasity also delivers advertisers and channel owners greater visibility and valid audience metrics, using patent-pending proof-of-view (POV) technology to eliminate fake views and bots.
"Media assets developed through the Crowded Cloud platform, can be surfaced through and monetized on Verasity," says David Orman, CEO of Verasity. "We are excited to be an avenue on which artists and producers can showcase their work and be rewarded fairly for their efforts."
Crowded Cloud Token

Crowded Cloud will power this new ecosystem through the use of the native HAVI token, an ERC20 compliant token on the Ethereum network used for voting, accounting, settlement, dispersing payment, and managing distribution rights on the Crowded Cloud platform.
Recommended Read: