Six Months After Launching, DLive Hits 500,000 MAU and $2.6 Million Worth of Crypto Shared
DLive, the world's first and largest streaming platform on blockchain, announced that it's launching on Android and is available for download on Google Play and on the company's website. The platform, which launched six months ago, has an active community of over 500,000 monthly active users who have paid a combined $2.6 million in crypto to creators in the form of upvotes, gifts, and donations since launching.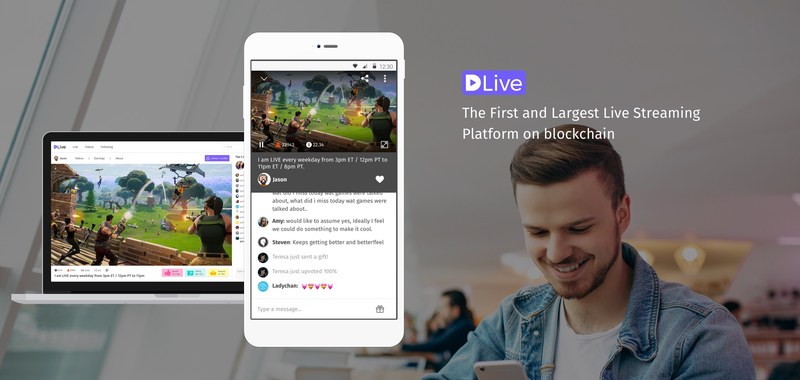 DLive is a live streaming video community that's built on top of the Steem blockchain. On DLive, the community determines what content should be surfaced through an upvoting and flagging system. As a decentralized platform, DLive does not take any revenue nor fees from creators.
"Blockchain has enormous potential to change how people stream and watch videos," said Charles Wayn, CEO of DLive. "Today, the industry is dominated by a few massive companies who are incentivised to take money from their creators and push ads into content whenever possible. By decentralizing streaming, we can democratize video content while giving a better experience to viewers and creators. Creators on DLive also have a chance to find an audience and not get not buried under millions of streamers, as with larger platforms."
Also Read: Mediaocean And IBM Partner To Integrate Blockchain Across The Media Ecosystem
On DLive, creators can earn STEEM tokens by receiving upvotes on their content and gifts from their fans. DLive also has a dedicated content management team which manages over 2 million STEEM Power to reward creators directly based on the quality of their videos. Viewers can also earn tokens by upvoting content, making meaningful comments, and referring new users to join DLive.
"DLive has revolutionised streaming," said David 'Tidy' Wyatt, a streamer from England who has made over $8,000 worth of STEEM on DLive since January. "Coming from a site where earnings are directly linked to your view count, DLive rewards its users based on content. I have told many fellow partners about this site, and they are loving it so far too."
"Platforms like DLive will be essential in disrupting the way people consume media," said Ned Scott, CEO of Steemit, which has a market cap of over $430 million. "So far people really seem to embrace DLive and we're very proud to have the platform on Steem."
Recommended Read:  Canvs Adds Marketing Measurement Pioneer Kristin Luck To Board of Advisors