Quincy Media Selects LiveU Matrix for Real-Time Content Contribution & Distribution
Quincy Media is standardizing on LiveU Matrix, the company's next generation IP cloud video management platform, enabling broadcasters to view, manage and distribute live content quickly and efficiently. The media group plans to deploy the platform to its entire portfolio of broadcast stations throughout the Northeast and Midwest this month, allowing hundreds of production teams to benefit from the web-based platform's instant availability of live feeds, flexibility, and ease of use.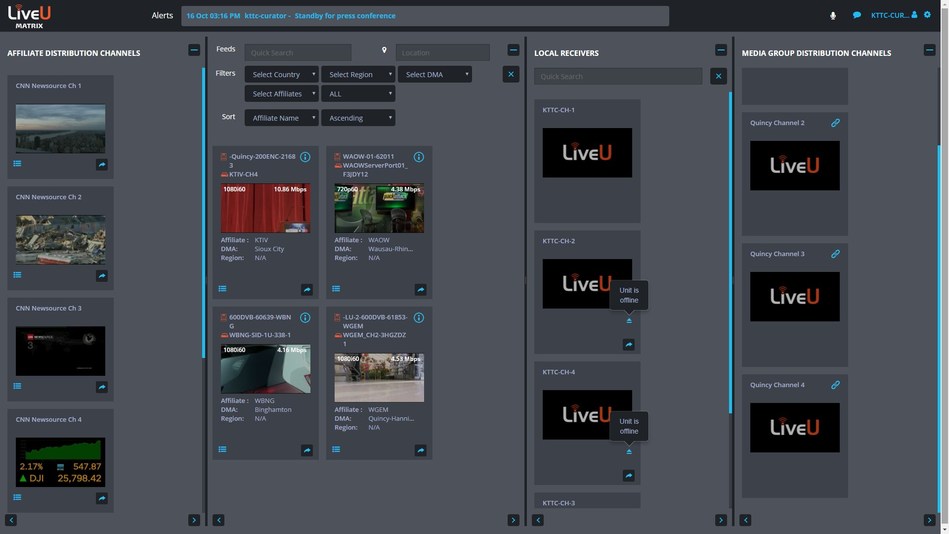 Also Read: Elite SEM Bolsters Executive Team; Taps Dalton Dorné as Chief Marketing Officer
"We first heard about LiveU Matrix at NAB in Las Vegas. We realized very quickly how this technology, coupled with our LiveU transmission units, could fit nicely into our current workflow," Brady Dreasler, Director of Engineering at Quincy Media. "LiveU Matrix offers instant availability to a host of live content and gives us the flexibility to automatically scale based on usage."
"LiveU Matrix gives full visibility into all feeds available and puts the broadcaster in the driver's seat to manage and send content anywhere, without interruption or another piece of hardware," said Mike Savello, LiveU VP of Sales, Americas. "We're confident that LiveU Matrix will quickly become an invaluable tool for Quincy Media's stations maximizing their capabilities, while reducing production and distribution costs."
Also Read: CoreSite Launches Concept3D's Virtual Tour Platform in Virginia Data Centers
LiveU is driving the live video revolution, providing live video streaming for TV, mobile, online and social media. Let your audience become part of your story with high-quality and flawless live video, transmitted from anywhere in the world, through the use of our patented bonding and video transport technology. LiveU creates a consistent bandwidth and a reliable connection so you can acquire, manage and distribute high quality remote live broadcasts over IP. Our broad portfolio of products sets the industry standard for live video production. From backpacks to smartphones, and satellite/cellular hybrid to external antenna solutions, LiveU offers a complete range of devices for live video coverage anytime, anywhere. In addition, LiveU offers extensive cloud-based management and video distribution solutions.
Recommended Read: Influential Appoints Entertainment Media Executive Andrew Pelosi as Chief Business Officer to Drive Strategic Partnerships