Facebook has announced its next set of unique Video content platform and features. The announcement brings the Portal family of products closer to users and their network during the Holiday season. Powered by unique video calling features that are built on the AI-powered Smart Camera, Portal by Facebook takes users closer to what they see on Instagram Stories. However, to use Portal; you don't need a Facebook account! In the official newsroom blog, Facebook stated that the Portal features are similar to Alexa, with new added features for the Portal Mini, Portal, Portal+ and Portal TV.
The unique features include a series of real-time interactions such as Smart video calling, Story Time, AR experiences and more delivered on your desktop, smartphone, tablet, or on your Smart Connected TV.
This is what you can do with Facebook's next-gen video calling platform.
Share Unique Stories on WhatsApp and Workplace
This holiday season, take your WhatsApp to center of every private conversation and group chats. With Portal, you can now access every video with Story Time feature. With AR and mixed reality, WhatsApp groups can view Story Time, designed specifically for kids and minors.
Bringing AR to Workplace
Yes, video calling features with AR applications will now be part of your Facebook conferencing. With Alexa's built-in features, Portal can "connect you with your co-workers when you're working from home."
The feature comes with unique identity management and access authorization to prevent misuse in professional setups. With Workplace on Portal, you can collaborate more effectively, building strong relationships with your co-workers remotely.
Portal Mini, Portal and Portal+ Updates
Now access livestream Video content directly from your Facebook profile! The new technology connects your social media content to Portal via Facebook Live. From watching News Feeds to celebrating video live, Facebook Live App lets Portal's Smart Camera to uniquely capture every memorable moment and cast it on your connected device. Facebook also announced the launch of Watch Together to Portal Mini, Portal and Portal+.
Watch Together will grant access to Facebook Watch shows, including original programming like Red Table Talk, Returning the Favor and Limetown, in sync with a friend.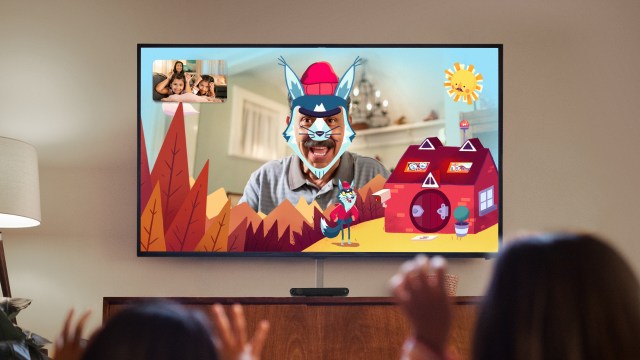 Photo Booth and Mic Drop
The decade belonged to the Snapchat and Instagram influencers. Isn't it? but now, you can actually compete with such celebrities using Portal Mini and Portal TV.
Facebook brings Mic Drop – a unique AR-based media platform which lets you sing your favorite numbers along with pictures, GIFs, collage and other visual assets. All these can be done while you are still answering a call. Mic Drop, as the name suggests, is a fully hands-free application, bringing popular songs from the 80s and 90s from various genres such as Rock, Pop and Alternate Blue. AR masks every performance into personalized genres and casts it onto your Facebook Live or Portal TV so that you can watch the 'stage show' with your friends and family.
Facebook also launched Photo Booth for Portal TV. This application will allow users to "snap selfies and take videos, add effects and then share with people on Messenger from your TV."
These can be shared with your friends on Facebook, Instagram, and WhatsApp via Portal links. The application is also allowing users to even share photos from their Superframe feed through Messenger, so friends can see what you see and join the fun.
With so many unique video calling features powered by AI, AR, and interactive content coming to Portal, we wonder if Facebook users would want these newly-launched applications to be part of Christmas and New Year celebrations.  Let's watch out…