Softcrylic's Jerry Helou wins the Gold Medal at Adobe's First ever AAM Insider Contest on September 13th, 2018.
Adobe has been touring the US and Overseas showcasing their Experience Cloud Suite especially Analytics, Target, and Audience Manager. The tour is called the AAM Insider Tour. In last week's tour, there were sessions that focused on disseminating exclusive tips and tricks associated with creating, unifying, and activating high value audiences by expert Adobe DMP Practitioners and learning how Adobe Products play well with each other in delivering business value to clients.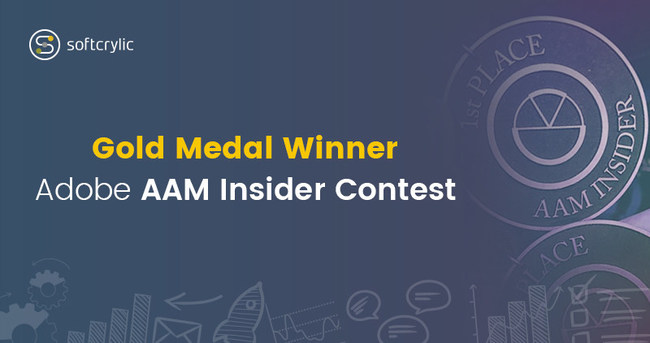 As part of their Insider Tour, Adobe conducted their first ever Adobe Audience Manager Contest, a chance for Industry DMP Practitioners and subject matter experts to share their expertise, present stories of solving innovative use cases in front of a panel of Judges. Four eminent visionaries in the highly evolving Data Management Platform domain Nina Caruso, Kyle Morehouse, Jae Lee and Ted Schuchardt were present in the Judges Panel.
Also Read: Segment Introduces Customer Data Infrastructure
Jerry Helou is the Digital Experience Architect at Softcrylic who specializes in helping clients accomplish advanced digital experiences and strategic business goals by implementing and leveraging multi-solution architecture. Jerry has led multiple large-scale DMP implementations and has tremendous knowledge in deploying Data Management Platform (DMP) for clients' best interest.
Jerry contested in Adobe Insider AAM Contest along with two of Softcrylic's Clients Caryn-Amy Rose a Data Scientist and Business Analyst of New England Journal of Medicine (NEJM) and Jeffrey Mosetic, Global Programmatic Strategy and DMP Manager of International Hotels Group (IHG). In an intense contest among the finalists the story-telling DMP case-study narrative delivered by Jerry and Caryn-Amy Rose won the Gold Medal.
Also Read: Reprints Desk Partners With Dimensions To Provide Intelligent Citation References and Journal Article Stats
Quoting on winning the Gold Medal, Jerry quoted that "Today, it is not only about turning on the DMP and feed in data and build some segments. It is about how can this DMP serve as an enterprise data hub that will serve as an Identity Graph, Audience Repository and the glue that brings the entire company together. As an Adobe Partner, Softcrylic DMP Practice has been exploiting Data Management Platforms to solve complex data challenges of Global clients. Participating and winning this contest along with our Client Engagement Leaders has been a total fun and I have learnt a great deal from other finalists and DMP Gurus first-hand. Can't wait to do this again!"
Recommended Read: Copado Secures €7.5 Million Series a Investment Led by Insight Venture Partners to Support Its Continued Growth