botique.ai Launches the First AI Powered Digital Agent 'Chatbot' Platform for Small and Medium Businesses
Smbs Can Now Utilize the Powerful AI NLP & NLU Engines for Customer Support Automation, Visitor Engagement at Zero Cost
botique.ai Inc., the Conversational Artificial Intelligence Company, announced the launch of the first Conversational Artificial Intelligence Digital Agent Platform for small and medium businesses (SMBs). The AI-powered Chatbot platform is designed to help small businesses add intelligent and conversational features to their customer engagement channels.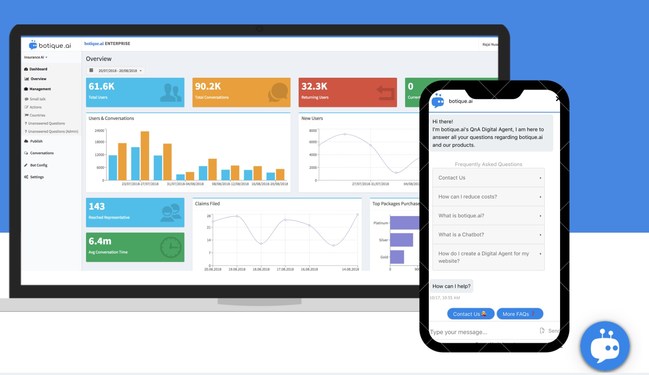 With the new free version of the AI-powered, Questions and Answers digital agent, small and medium businesses can now utilize the same powerful AI automation engines that drive enterprise customer centers around the world at zero cost. Available worldwide in multiple languages, botique.ai's Artificial Intelligence Digital Agents Platform for customer service automation will help small and medium businesses provide visitors with automated support, engage customers and increase revenue via digital channels at no cost.
Also Read: Tableau Unveils Innovation Roadmap at Tableau Conference; Introduces New Way to Interact with Data Through Natural Language
botique.ai's QnA Digital Agent "Chatbot" Platform launched worldwide earlier this year, targeting businesses and enterprises that are struggling with customer support automation, visitor engagement, agents availability, and high customer support needs. botique.ai serves verticals such as telecommunications, pharmaceuticals, ISPs, insurance & retail companies among others.
"Many Conversational AI solutions utilize machine learning and deep learning algorithms. Those algorithms are only as good as the training you provide them, which is a long resource consuming process that many businesses are reluctant to go through, and many small businesses can't afford. Using botique.ai QuickPredict engine, the AI is able to learn, analyze, and process text by itself (using unsupervised learning skills),  generate keywords and synonyms. This reduces the AI training process from days and weeks to only a few minutes," said Yoav Yanovski botique.ai's Chief Executive Officer.
Also Read: People.ai, the AI Platform for Sales, Marketing & Customer Success, Raises $30 Million Led by Andreessen Horowitz
As small businesses struggle with the resources to invest in AI solutions, they turn to Finite State Chatbot builders that are available. The problem with those is that they usually follow a defined structure or (decision tree) and misinterpret or ignore any user's input that doesn't fall within the pre-designed flow, which ends up frustrating consumers and in many cases churn.
"botique.ai has been in the business of customer centers' automation for over a couple of years. The feedback we have received from our community of customers has been very encouraging. Some of our customers with small businesses used the 30-Day Trial of our QnA Digital Agent Platform, and requested a lighter version of the Chatbot platform that suits the needs of their business," said Rajai Nuseibeh, botique.ai Head of Marketing.
The Free version does, however, have some limitations. While small and medium businesses get to fully utilize the state of the art Natural Language Processing (NLP), and Natural Language Understanding (NLU) engines, the AI-powered QuickPredict (v2.1) for keywords and synonym generations, the Live Chat platform for human take over, features that are provided in the Business and Premium packages. The Free package is limited to answering 25 questions (vs 100 for business and unlimited for Premium,). It also supports up to 100 monthly conversations (vs 1,000 for business, and 10,000 for Premium), and doesn't support integrations into other Chat or CRM systems.
Recommended Read: Interview with Luke Beatty, CEO and Chairman, Brandfolder