Bright Pattern Powers Global Omnichannel Customer Service Across 31 Countries, Creating Effortless Customer Experiences and Strengthening ROI
Bright Pattern, a leading provider of omnichannel cloud contact center software, helps Transcosmos provide exceptional localized customer care for international clients.
Transcosmos enables global retailers to localize their customer service and deliver support that is tailored and relevant to each market. Operating in the United States, Asia, Central America and South America, Transcosmos employs thousands of agents who speak multiple languages and are trained in the cultural nuances of dozens of countries and territories.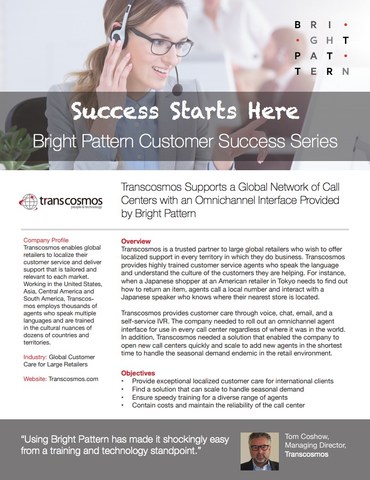 Transcosmos provides customer care through voice, chat, email, and a self-service IVR. The company needed to roll out an omnichannel agent interface for use in every call center regardless of location. In addition, Transcosmos needed to be able to open new call centers quickly and scale to add new agents in the shortest time to handle the seasonal demands of the retail environment.
Also Read: Brand Embassy and Talkdesk Form Partnership to Provide an Omnichannel Platform for Customer Service
Effortless and Personal Customer Service with Bright Pattern Omnichannel Cloud Contact Center
Bright Pattern delivered an omnichannel interface that puts everything the agent needs on one screen. "Using Bright Pattern has made it shockingly easy from a training and technology standpoint," said Tom Coshow, Managing Director of Transcosmos.
Transcosmos implemented the solution quickly across its entire network so that its thousands of agents across the world could use an identical system. The cloud-based software offers clients the maximum flexibility to scale and open call centers wherever an Internet connection can be found. It also requires far less on-premises technology that would need to be upgraded constantly.
Results from switching to Bright Pattern:
Reduced average agent training time from three days to just three hours
Increased agent licenses on the Bright Pattern platform by 500% since onboarding
Growth of international call centers in 

Mexico

 and 

Brazil

 to handle clients all over 

Central America

 and 

South America

Enabled agents to handle requests in chat and email as well as voice
Cut email handling time down to under 12 hours for most clients
This single, simple solution has a lot of benefits for Transcosmos. Despite operating in multiple locations and markets, everything is uniform. Training is simplified and maintenance can be performed centrally—updates and patches work everywhere instantly. Managing one solution across multiple territories also offers significant cost savings for Transcosmos.
"When you take an international account and localize the customer service, there are so many cultural issues to train into the agents. Having a unified interface is a huge help," continued Coshow.
Recommended Read: Zendesk Suite Launched for Integrated Omnichannel Customer Experience