SproutLoud, a leading Through-Channel Marketing Automation platform, launched its newly redesigned website. The new SproutLoud.com more closely aligns the company's online messaging with its own mission: Simplify Channel Marketing to help Brands increase sales in local markets.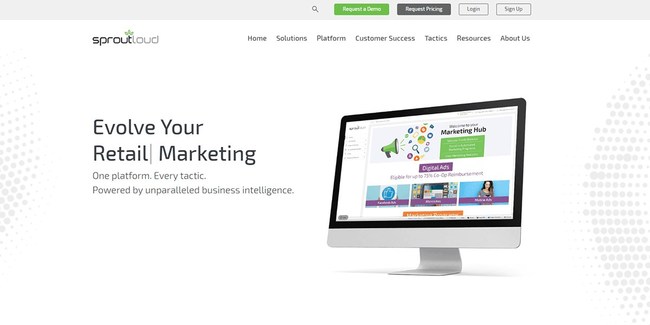 "What we do — Through-Channel Marketing Automation (TCMA) — has a very complex ecosystem of parts. With our new website, we not only make it easier for Brands to understand what we do, but we also show them how SproutLoud understands the challenges Brands and their Partners face in the local marketplace. The new site illustrates how SproutLoud offers the distributed marketing solutions Brands need in one, comprehensive TCMA platform," said Gary Ritkes, president of SproutLoud.
Also Read: Change Your Marketing and Sales Success by Changing One Little Word
Explore the new SproutLoud.com and you'll find a clean, crisp design and a conversational tone, with easy navigation that quickly leads Brand visitors to the answers they need, no matter where they are in the buying journey. Whether Brand buyers are just beginning to research TCMA solutions for local marketing, preparing for an RFP, or evaluating options before the purchase decision, the new SproutLoud website helps them quickly pinpoint the information they need, while introducing a full spectrum of distributed marketing solutions.
Also Read: Scout RFP Raises $33 Million to Define the Future of Strategic Sourcing and Procurement Including Investments from Scale Venture Partners and Workday Ventures
"Navigating through the site, it tells a story – about the biggest national-to-local marketing challenges Brands face today and how the right combination of innovation, technology, analytics and unparalleled service and support gives Brands and their Partner networks what they need to increase local sales," Ritkes said.
SproutLoud is a SaaS-based Through-Channel Marketing Automation platform that offers distributed marketing software, services and support to Brands and their Channel Partners. SproutLoud uses intelligent automation to improve speed-to-market, reduce costs, drive more Partner participation, and deliver real-time insight to increase leads and sales. SproutLoud was founded in 2006 with one mission: Simplify Channel Marketing to help Brands increase sales in local markets. In its first dozen years, the company grew from a brash young start-up to a recognized thought leader in the 100-year-old Channel Marketing industry. Today, SproutLoud is redefining the future of TCMA.
Recommended Read: Capgemini's LYONSCG Creates Immersive Digital Experience for FootJoy's New Luxury Product Collection