Pathmatics Launches First Panel-Based Paid Social Ad Intelligence
Ad Intelligence Collected from Opt-In Social Panel Enriches Decision-Making by Brands and Agencies with a Cross-Channel Perspective
Pathmatics, a leading provider of advertising intelligence solutions, today announces the availability of social ad tracking in its platform. The new reporting, powered by data continuously collected from an opt-in panel of mobile users, provides Facebook ad intelligence for the U.S., with other social networks and regions to follow in 2018.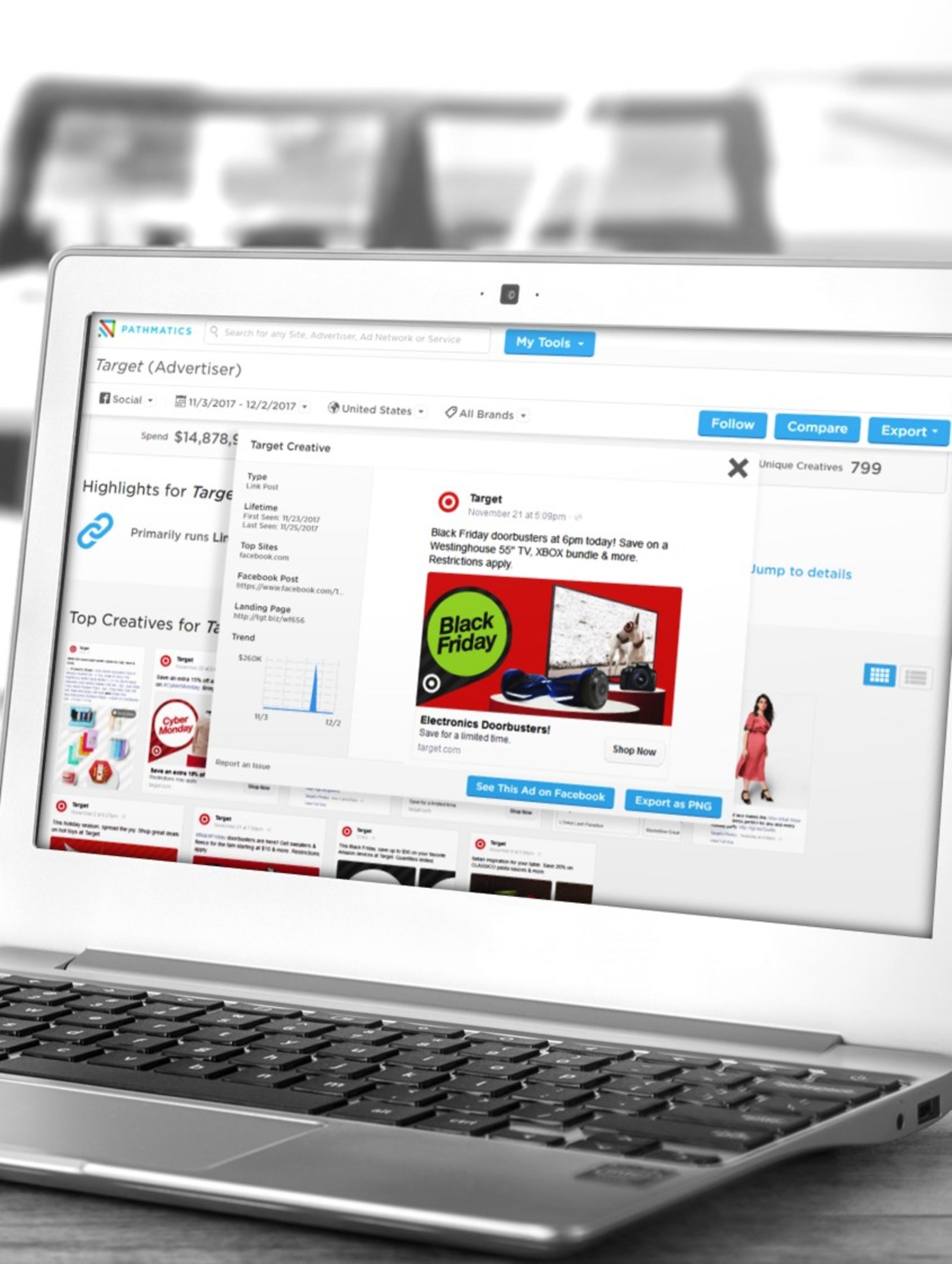 Pathmatics Social Ad Intelligence. Monitor Facebook advertising for a cross-channel perspective on competitive campaigns, spend, and targeting.
Reporting for each advertiser provides creatives, impressions, and spend plus additional breakdowns for mobile device targeting, creative type distribution, and U.S. state and metro targeting. Included are so-called "dark posts" that don't run on an advertiser's Facebook Feed.
"We are pleased to be the first and only ad intelligence platform to offer this kind of visibility into the social advertising landscape," said Pathmatics CEO and founder Gabe Gottlieb. "As the incredible rate of digital ad spend flowing to social (and especially Facebook) continues, it fuels demand for access to competitive intelligence. Pathmatics subscribers now get unprecedented views into their competitors' campaigns to improve ad strategies for themselves or for their clients."
The addition of paid social to Pathmatics' digital advertising coverage provides brands and agencies with a broad cross-channel perspective on competitive campaigns, spend, and targeting. The ad archive dates to December 2016 and is updated daily.
Pathmatics social tracking is powered by passive monitoring of a proprietary, opt-in mobile panel of users on iPhone, iPad, Android phones and tablets.  Pathmatics mobile panel includes hundreds of thousands of users within the U.S. and is demographically representative of the U.S. social network population. No personally identifiable information (PII) is collected.
"Our clients," said Sam Bloom, General Manager, Interactive at Camelot Strategic Marketing & Media, "operate in very competitive environments and compressed seasonality, so we do everything we can to help them obtain an edge, which Pathmatics provides.  And because one-in-four digital minutes is spent in Facebook, it is ground zero.  Pathmatics has built a robust product that makes us smarter every day."
Also Read:  Arm Your Marketing Campaigns With Opinions That Matter