Qualfon Announces Strategic Acquisition of Digital Demand Generation and Internet-Based Advertising Agency, Leadvision Media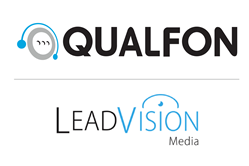 Qualfon, a full-service marketing solutions and contact center service provider, announced that it has acquired LeadVision Media ("LVM" or "LeadVision"), a leader in the digital demand generation space. Through its diverse network of internet properties, LeadVision delivers relevant, audience-targeted advertisements to consumers.
Marketing Technology News: Martech Interview with Li Jun, Founder of Ontology
Together, Qualfon and LeadVision will expand their service offerings in lead generation, customer acquisition and value-added digital marketing solutions to both new and existing clients in the education, insurance and consumer financial services vertical markets.
LeadVision is a pioneer in digital lead generation for the education industry and is focused on providing new avenues of growth in the sector. It also owns and operates, RevenueAds, its own affiliate network as a traffic source as well as MyDegree.com, a complete source for information about obtaining a college degree.
Qualfon CEO Mike Marrow said, "The acquisition of LeadVision is another step in fulfilling our Mission – to be the best and make each person's life better. This acquisition brings industry-leading digital demand generation capabilities to Qualfon and its customers, offers a host of best-in-class outsourcing solutions to LVM's clients while at the same time creating new positions and advancement opportunities in a relevant and high growth market."
"We are excited to join the Qualfon family. This partnership will help us expand our services to our clients by offering unique solutions that were not available before as well as opening up new markets for our advertisers and publishers. We believe this partnership goes beyond the business opportunity when we look at how closely aligned our two companies are in our shared values – to further each person's professional and personal development and to make each person's life better," said, Matt Stowe, CEO of LeadVision Media.
Marketing Technology News: Contentgine® Announces Appointment Of Frank Duggan To Its New Board Of Advisors