ISG Provider Lens Report Finds Providers Investing in Sap Public Cloud Infrastructure Services
Technology and service providers are rapidly evolving their SAP capabilities for enterprise workloads in response to growing momentum in the marketplace for public cloud implementations, according to a new report published by Information Services Group (ISG), a leading global technology research and advisory firm.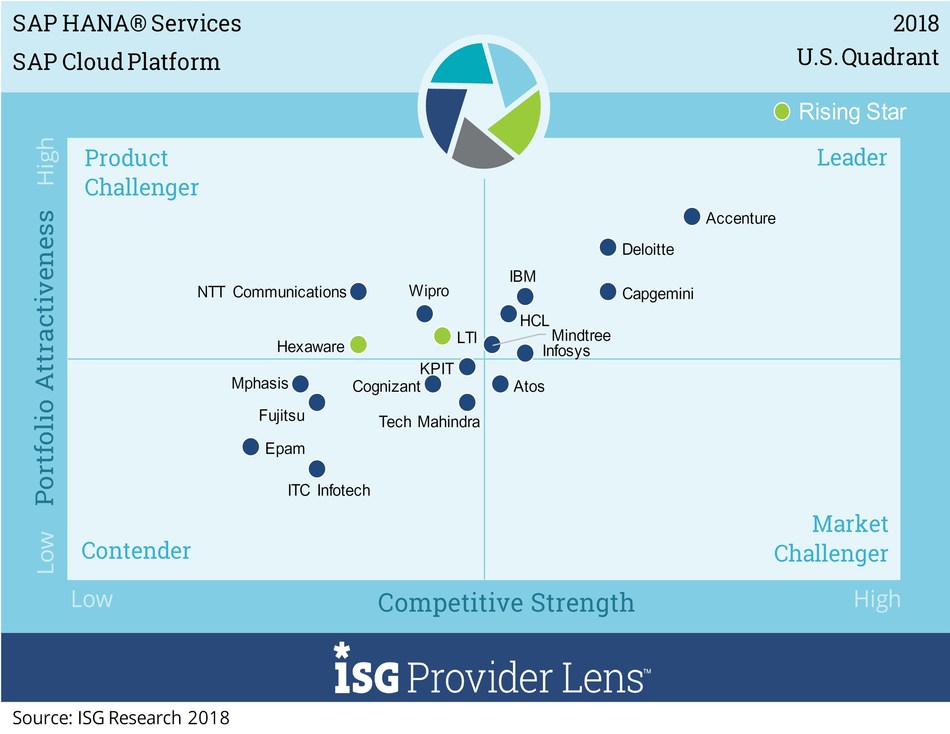 ISG is seeing significant investments being made by providers to improve their SAP services for public cloud infrastructure, including specialized hardware innovations. This shift is fueling a rise among providers in public cloud alliances, certifications, acquisitions and partnerships, ISG notes in its latest ISG Provider Lens Quadrant report, evaluating providers that offer SAP HANA services.
Also Read: ISG Impact Mobile App Enhances Customized, Interactive Access to Industry-Leading Insights
These moves come amid a consolidation of public cloud hyperscale infrastructure-as-a-service (IaaS) providers supplying HANA services, ISG says. The largest – AWS, Microsoft, IBM and Google – have quickly moved up from providing commodity compute and storage services to offering higher-level, enterprise-certified infrastructure for SAP.
"SAP continues to undergo an ecosystem transformation as cloud computing is now a major component of HANAservices and migration conversations," said Esteban Herrera, partner and global leader of ISG Research. "Organizations must now consider cloud options for their SAP infrastructure, including hybrid cloud environments or a complete transformation of all their SAP services to public cloud providers."
One impetus for change, ISG notes, is SAP's planned 2025 sunsetting of its Business Suite powered by earlier versions of SAP HANA. With that deadline looming on the horizon, enterprises are seeking provider expertise in transforming to SAP's next-generation S/4HANA and other HANA services. As a result, the field of SAP service providers that offer transformation services is becoming more crowded, and, at the same time, their offerings are becoming more specialized.
Such specialization, aimed at providing pre-configured solutions that speed the pace of migration, includes industry-specific solutions for business outcomes, proprietary tooling, accelerators, scripts and software stacks, ISG said. Providers also are developing and offering migration frameworks that help enterprises navigate technological and organizational complexities, and are forming SAP Centers of Excellence to help their customers accelerate their return on investment.
Also Read: ISG Releases First Client-Facing Mobile App: ISG Impact
ISG says the leading providers covered in its latest ISG Provider Lens study are emphasizing SAP Cloud Platform capabilities, including Leonardo development and advisory specialization. Their technology focus includes Internet of Things, analytics, machine learning, blockchain and big data.
The ISG Provider Lens SAP HANA Quadrant Report evaluates 27 providers serving the US market across five quadrants: S/4HANA, BW/4HANA, SAP Cloud Platform, SAP HANA Technology – Infrastructure, and SAP HANA Technology – Managed Services.
Among the providers profiled in the ISG Provider Lens report, IBM was named a market leader in all five quadrants, the most of any provider. Accenture and Capgemini were cited as leaders in four quadrants, while HCL and Infosys were named leaders in three quadrants.
For SAP Cloud Platform services, the leaders were Accenture, Deloitte, Capgemini, IBM, HCL, Infosys and Mindtree, with LTI and Hexaware noted as "Rising Stars." (See figure.)
The ISG Provider Lens Quadrant report series draws insights on service provider capabilities from focused surveys, briefings, interviews with providers, input from ISG advisors, ISG benchmarking data, and data drawn from the ISG Contracts Knowledgebase and ISG Engagement Database.  The series is a complement to the ISG Provider Lens Archetype reports, which offer a first-of-its-kind evaluation of providers from the perspective of specific buyer types.
Recommended Read: Adoption of Social Business Models Growing, Says ISG