Oracle Responsys, part of Oracle Marketing Cloud, cited for up-leveling its operations, tech and creative services
Oracle Marketing Cloud has been named a leader in email marketing solutions by Forrester Research. The Forrester Wave™: Email Marketing Service Providers, Q2 2018 recognizes Oracle Responsys for its "great services combined with already strong reporting, collaboration, and global support." The report also notes Oracle believes up-leveling its "operations, tech, and creative services to its strategy and analytics offerings will differentiate Oracle from other marketing clouds." A complimentary copy of the full report can be downloaded here.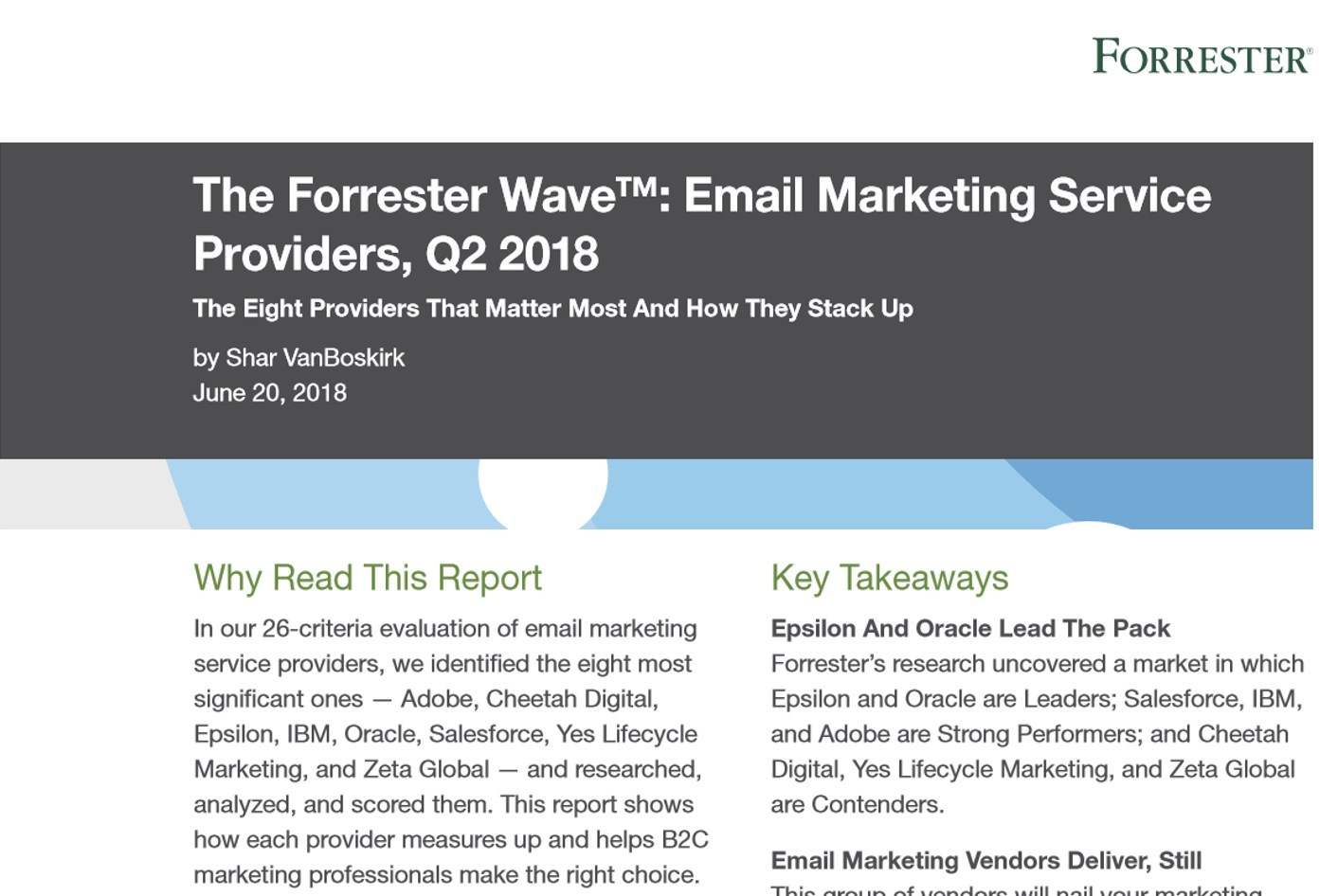 Recommended Read: Urban Airship Taps Former Salesforce-Pro Michael Stone as SVP of Marketing
"If you've ever had to create personalized customer experiences across multiple channels, you know how difficult it can be to do this at scale," said Tony Castiglioni, VP of Product Management, Oracle Marketing Cloud. "By integrating cutting edge technology such as AI into our email personalization and sending capabilities, we empower our clients to improve customer engagements and drive competitive differentiation. In our view, being recognized by Forrester as a leader in this space underscores Oracle's commitment to delivering robust marketing solutions that help our customers increase ROI and drive more impactful customer experiences."
According to Forrester, "email marketing [is] the old salt of your digital toolkit, and still the most cost effective promotional channel." The evaluation criteria in this year's report focused on email marketing fundamentals as well as capabilities that help marketers advance their email marketing applications. Of the eight vendors Forrester evaluated, Oracle Marketing Cloud was one of two companies recognized as a leader across 26 criteria, which were grouped into three categories: current offering, strategy and market presence. Oracle received the highest possible scores for the collaboration, security, distributed business model support, globalization, agency relationships, strength of management team, and employee retention criteria.
Also Read: Urban Airship Powers Real-Time Mobile Wallet Tickets and Boarding Passes with Google Pay
"It's the combination of the best platform and best services offering—including strategic and creative services—that empowers our customers to do innovative, award-winning and highly profitable digital marketing," said Lisa Harmon Stephens, VP of Creative Services, Oracle Marketing Cloud. Forrester's report noted one client reference described the value of balancing "great services combined with already strong reporting, collaboration, and global support," saying, "The Oracle platform is more robust [than competitors']. But its creative side is the key to its success."
Oracle Responsys is part of Oracle Marketing Cloud, an integrated portfolio of best-in-class B2B and B2C applications that empowers marketers to deliver irresistible, consistent and connected customer experiences that help drive sales and increase brand loyalty. Harnessing the power of artificial intelligence, Oracle Marketing Cloud provides contextually informed, personalized experiences at scale and in real-time so marketers can reach customers wherever they are, and however they choose to engage.
Recommended Read: Brand Consistency Issues Hinder Marketers' Ability to Tackle Customer Experience