Out of 25,820 products on TrustRadius, PathFactory has been recognized as one of the top 101 "Most Loved" software for 2022. Customers love PathFactory because it serves the most relevant content and allows their buyers to self-direct.
PathFactory, the leading B2B Intelligent Content Platform, announced that TrustRadius has recognized PathFactory with a 2022 Most Loved Award. This year's winners represent a variety of solutions spanning across more than 800 categories and are most loved by their customers for a multitude of reasons.
Marketing Technology News: MarTech Interview with Laura Taylor, CMO at Crayon
"PathFactory earned a Most Loved award based directly on feedback from their customers. Reviewers highlight the content experience, the audience profiling, targeting, and the content performance analytics." Megan Headley, VP of Research at TrustRadius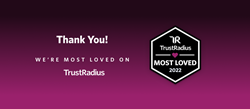 To determine the winners of this year's award, TrustRadius analyzed every review collected in 2021 word by word. Reviews were analyzed across 25,820 products and 800 categories. The most beloved products were determined by comparing mentions of "love" in all its (grammatical) forms to the total number of reviews received for each product.
After much consideration, 101 products emerged as the winners of TrustRadius' 2022 Most Loved Award. These products earned the highest ratio of "love" per review across the entire TrustRadius platform.
"First 'Top Rated' and now 'Most Loved' – we love our customers for showing us so much love on TrustRadius! B2B marketers and salespeople who use PathFactory's Intelligent Content Platform tell us they love how PathFactory's powerful Content Intelligence helps them achieve their revenue goals as well as the stellar support provided by our talented global team," said Dev Ganesan, President and CEO of PathFactory.
"Buyers have a lot of options to choose from when it comes to content marketing software. The right software can help marketers remove friction and create more qualified leads. PathFactory is one of the most loved software products of 2021," said Megan Headley, VP of Research at TrustRadius. "PathFactory earned a Most Loved award based directly on feedback from their customers. Reviewers highlight the content experience, the audience profiling, targeting, and the content performance analytics."
Marketing Technology News: PathFactory Announces New Content Intelligence Features, Certification At Annual Customer Conference