Search Discovery is No. 2351 on Inc. magazine's 37th annual Inc. 5000, the most prestigious ranking of the nation's fastest-growing private companies.
Search Discovery, a leading provider of full-service business intelligence, analytics, and digital marketing solutions, began in 2004. The company works with Fortune 5,000 companies across a variety of industries and offers data solutions at every stage of data enablement.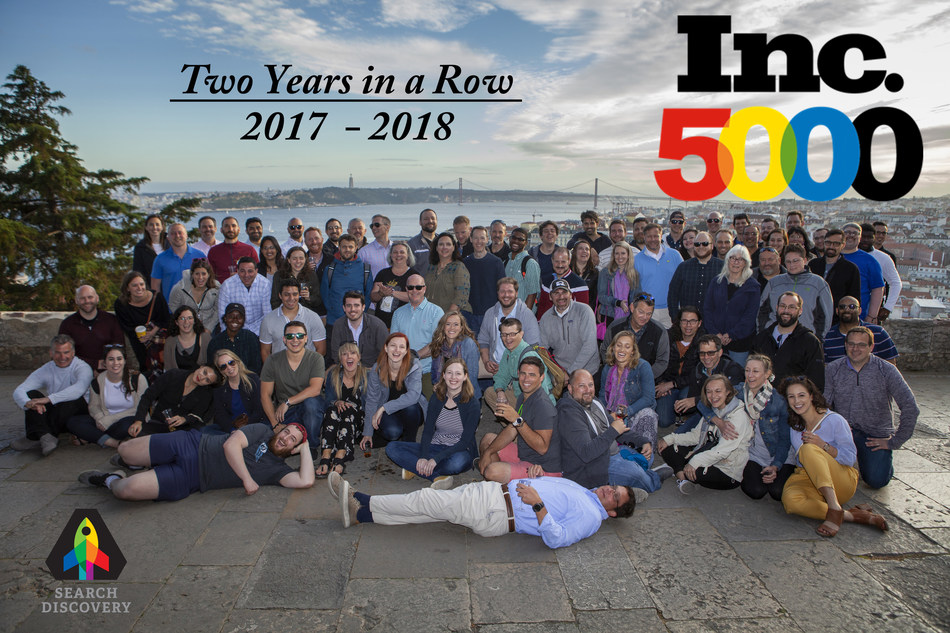 "It is a great honor to make the Inc. 5000 for two years in a row," said President Mike Gustafson. "It is a testament to the impactful work and creative solutions our team has delivered to our clients and the great partnerships we have developed with them."
Also Read: Omnicom Precision Marketing Strengthens Its Management and IT Consulting Capabilities by Acquiring Credera
Search Discovery experienced a 184% increase in revenue since 2015, with an employee count that has nearly doubled since 2016.
"If your company is on the Inc. 5000, it's unparalleled recognition of your years of hard work and sacrifice," says Inc.editor in chief James Ledbetter. "The lines of business may come and go, or come and stay. What doesn't change is the way entrepreneurs create and accelerate the forces that shape our lives."
Search Discovery joins the ranks of America's most dynamic, successful companies, including Microsoft, Dell, Pandora, LinkedIn, and many other well-known Inc. 5000 honorees.
Also Read: Wovenware Named to Inc. Magazine's Inc. 5000 Annual Ranking of Fastest Growing Private US Companies for the Fourth Time
Search Discovery is a business intelligence and analytics company that empowers organizations to use data to improve business performance.  We engage clients at every stage of data enablement, including strategy, implementation, business experiments, optimization, and organizational change management.
Our solutions enable more efficient operations, clearer business insights, and improved decision making across marketing, sales, finance, operations, and human resources.  We partner with Fortune 5000 companies like Marriott, Chick-fil-A, Adobe, and others who are transforming their businesses by leveraging the value of data.
Recommended Read: Jornaya Joins Prestigious Inc. 5000 for Second Year in a Row