Pipeliner and the Center for Sales Leadership (CSL) at DePaul University announced a multi-year partnership to utilize Pipeliner's CRM system as a fundamental component of the Center's Sales Strategy & Technology course.
Students will use Pipeliner CRM as part of a sales case/simulation to become proficient in using technology to support their future professional sales efforts. Participation in this case/simulation  enables students to enter the workforce not only with process skills, but also the CRM skills necessary to become top salespeople in their future organizations. DePaul's Center for Sales Leadership is the largest sales program in the United States.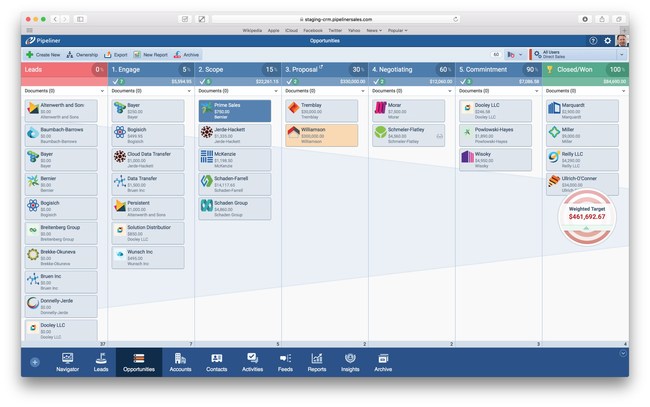 Also Read: LinkedIn Introduces Latest Measurement with Google Campaign Manager for Better Attribution
"We are delighted to support the salesforce of the future with Pipeliner CRM," said Nikolaus Kimla "These students will help bring technology center stage in the sales process which will lead to greater efficiency and productivity and ultimately greater sales success for both the individual and their organization."
By using Pipeliner CRM as an integral part of their real-world hands-on sales development, students will be able to integrate technology into their daily work practice and become the vanguard of an increasingly technology-enabled sales profession.
Also Read: OpenText Announces Extended ECM for Microsoft Dynamics 365
"The PCA Case/Simulation is an integral part of our Sales Strategy & Technology (SS&T) Course," said Dan Strunk Managing Director of the CSL, and creator of the SS&T course. "This course was developed at the insistence of our business partners who needed sales talent with CRM skills. In this course students become familiar with a variety of sales force automation technologies. When students successfully complete this class, they are proficient in CRM and often become technology leaders within their new companies. We are very happy with our partnership with Pipeliner as we see the company's clear commitment to sales space and the CRM system as a great opportunity to prepare our students for the real world," said Strunk.
Recommended Read: 8×8 Acquires Jitsi Video Communications Technology From Atlassian