AssureSign Named a Market Leader in Electronic Signature Software Market
AssureSign, the market's leading electronic signature provider, has been named a Market Leader in the Electronic Signature Software category for the 2018 Customer Success Report published by FeaturedCustomers.
After being evaluated alongside 19 competitors, AssureSign received an overall score of 90, qualifying the company as a select leader within the industry. The Market Leader designation is awarded to hand-picked vendors with substantial market share and those who are highly regarded by their sizable customer base.
Also Read: PlugXR Announces Augmented Reality Creator (Beta) to Create Fastest Mobile AR Apps for Free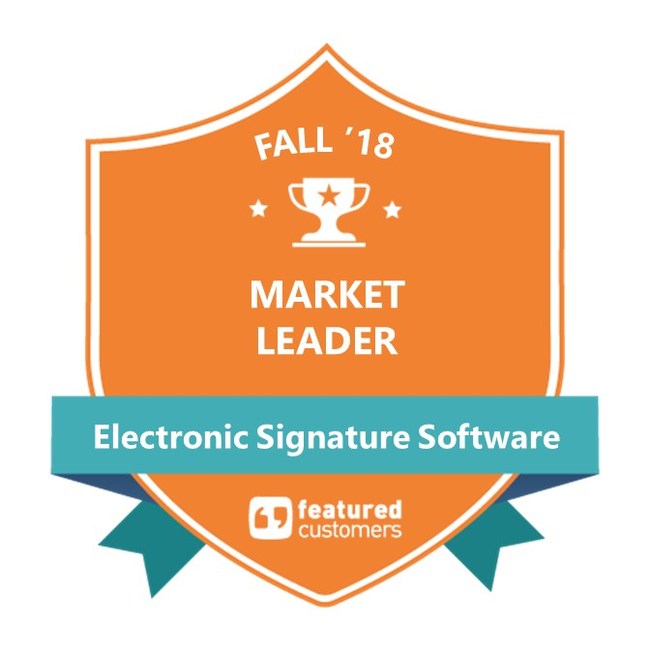 "Being recognized as a market leader further acknowledges our company's success, and I continue to be proud of the work we've accomplished as a team of dedicated professionals," said David Brinkman, President and CEO of AssureSign. "I'm excited for us to continue this upward trajectory and look forward to continued success in the new year."
Also Read: Vuzix Demonstrate Hands-Free Database Access Solution Using Vuzix Blade at CES 2019
The Customer Success Report is based on the curation of authenticated case studies, testimonials, and reviews from across the web, telling a complete story of vendors in the Electronic Signature Software space through real customer experiences. Scores are determined by multiple factors including number of total reviews, customer success content, social media presence, and vendor momentum based on web traffic and search trends.
The Market Leader designation is awarded to vendors with substantial customer base & market share and enough customer success content to validate their vision. Highly rated by customers, AssureSign consistently publishes high-quality vendor produced customer success content and curate's quality customer reviews from multiple third-party sites.
Recommended Read: Shutterstock Releases Its Maiden Media Campaign After a Long Haul of Six Years