Joanne Moretti, Richard Haddrill, & Jeff Mitchell
DecisionLink is proud to announce the election of three of the world's brightest business minds to its Board of Directors. Joanne Moretti, Richard Haddrill, and Jeff Mitchell will be bringing three very unique perspectives and backgrounds to the table to help the DecisionLink Board provide innovative leadership and drive strategic growth at the highest level.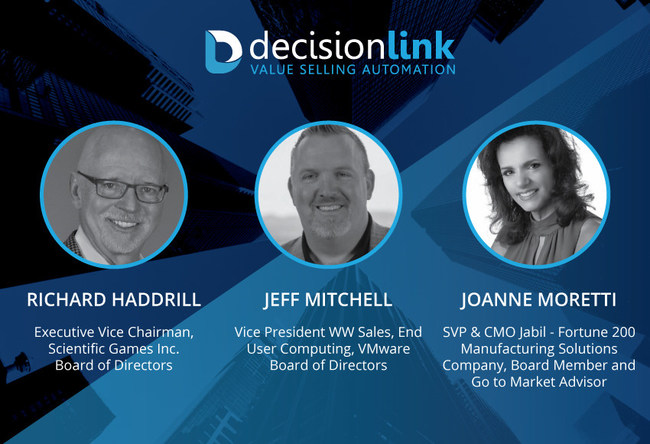 Joanne Moretti – Joanne brings 30+ years of sales enablement and marketing experience to the DecisionLink board. Most recently, as the SVP & Chief Marketing Officer of Jabil, Inc., Joanne successfully led the go to market transformation of this 180k person/20b dollar firm, from a "contract manufacturer" to the "world's most technologically advanced manufacturing solutions provider." In each of her prior roles, Moretti focused on driving profitable and sustainable growth for shareholders, through integrated sales enablement and marketing approaches, all centered on creating value for customers versus selling "speeds and feeds." Joanne is widely recognized with many notable awards, including the CloudNow Lifetime Achievement Award, and she also sits on the UT Austin Advisory Board, for the Institute of Transformational Learning.
Also Read: RevJet Announces New Artificial Intelligence Applications for Ad Creative Experiences
"I am truly honoured and very excited to be joining the DecisionLink board, their value-based solution set is right in my 'sales enablement wheelhouse'.  My only wish is that I had such a platform and toolset, when I was in sales, or when I helped others develop their sales skills – it would have shaved significant time from our sales cycles and helped us accelerate/improve our results dramatically by demonstrating the economic impact of our offerings." -Joanne Moretti
Richard Haddrill – Richard Haddrill is the Executive Vice Chairman of Scientific Games Inc., a global leader in gaming technology. He previously was Chief Executive Officer of three successful publicly traded technology companies — Bally Technologies, Manhattan Associates, and Powerhouse Technologies — and has served on the board of directors of nine companies. Previously Haddrill was a managing partner at Ernst & Young, where he also served as National Director of Entrepreneurial Services. Haddrill is active in various charitable endeavors, including The Smith Center for the Performing Arts and Boys Scouts of America. He recently founded The Groop LLC, a family office to invest in and advise a variety of private companies.
Also Read: ON24 Helps Marketers Scale Engagement and Maximize Revenue With Microsoft Dynamics 365 Integration
Jeff Mitchell – Jeff brings 20+ years of executive experience in building and running successful sales teams. Currently, Jeff serves as Senior Vice President of Worldwide Sales for End-User Computing at VMware, a global leader in cloud infrastructure and business mobility. In this role, Mitchell oversees all global sales initiatives across the $1.5B+ EUC business. He has consistently scaled the EUC business, growing it from a $100 million mobility business to over $500 million in four years. Mitchell leads worldwide EUC sales, sales engineering, channels, and related GTM functions with a central purpose: to drive our customers' transformation to the Digital Workspace to change and improve the way customers work by using EUC solutions. With this central purpose, Jeff has shifted the team culture to focus on customers first and value always. Outside of VMware, Mitchell earned a Bachelor of Science in business, management, marketing and related support services from the University of Indianapolis School of Business.
"I am pleased to join the Board of Directors at DecisionLink. Their innovative ValueCloud platform sets a new standard for capabilities, empowering 'value sellers' and companies to be laser-focused on customer value. At DecisionLink, we are perfectly positioned to help our customers achieve the next generation of business alignment B2B buyers need and expect." – Jeff Mitchell
Recommended Read:  MarTech RADAR 2018: Top 150 B2B Technology Companies You Should Follow