Nearly Half of All Employers Have Hired Staff for Their Technical Skills, and 10% Have Laid off Workers Because of Automation and Other Technology, a New Survey Reveals.
Nearly half (45%) of businesses hired workers in the past year specifically for their technical skills. But in the same time frame, 10% of businesses have laid off employees due to new technology.
These divergent trends are creating growing anxiety in the workplace, according to a new survey conducted by Clutch, a leading B2B research and reviews firm.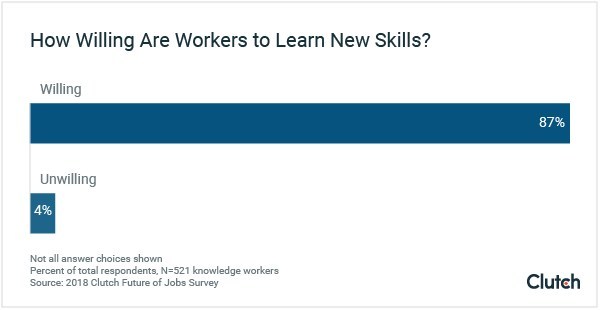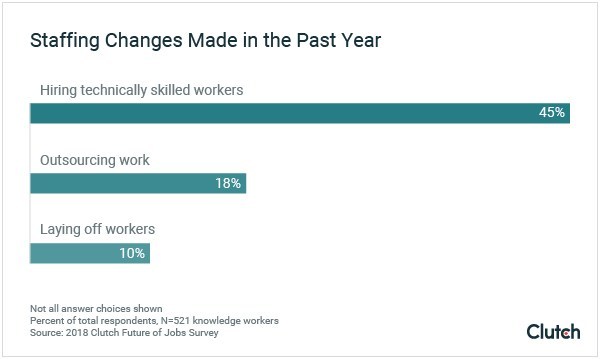 The data shows that while radical advances in technology may be opening up new opportunities in some businesses, they may also be reducing the need for certain kinds of employees.
Workers' Anxiety About the Future of Work Can Undermine Morale
Nearly 15% of workers surveyed by Clutch are nervous that their current role won't exist in five years due to technological changes.
Also Read:  Ipsos Chooses Passage AI to Power Surveys at MRIA 2018 Annual Conference
However, experts say technology is unlikely to replace human workers. Rather, technology can reduce the overall number of job opportunities in some fields by making employees more efficient.
"I wouldn't be fearful that a robot is going to take your job," said Ira Wolfe, president of Success Performance Solutions. "But it's not going to be the same job you had before, even if the title is the same."
The research suggests that some workers lacking technical skills may struggle to find a suitable position matching their years of experience.
As jobs become more competitive, some workers anticipate switching industries or specialties. However, 13% of respondents say they are not confident in their ability to find a new job that matches their current skills and level of employment.
Employees Want to Master New Technology
Despite anxiety about the future, employees are eager to work with new technology. Nearly 90% of survey respondents say they are willing to adapt their skills to changing workplace technologies.
Robotics and other forms of automation are the most commonly adopted type of new technology, the survey shows. Nearly 1 in 5 businesses (17%) have already implemented some form of automation, such as self-service kiosks, customer relationship management (CRM) software, or tablets used for sales.
Most employees welcome the prospect of disruptive technology, such as smartphone integrations or software that improves efficiency. More than half of those surveyed (51%) say they are excited about the opportunity to master new technology in the workplace.
More than one third (35%) of workers whose companies haven't yet implemented new technology say they hope their employer will make it available to them.
Recommended Read: Epsilon Named a Leader for Email Marketing Services by Independent Research Firm; Recognized for Unmatched Balance of Strong Technology and Professional Services