ExpertFile Wins "Best Content Marketing Solution" Award at 2018 SIIA CODiE Awards
Platform Simplifies Online Marketing of Experts Through Multimedia Focused Profile Design and Cloud-Based Global Directory Accessed by Newsrooms Worldwide
ExpertFile announced that it has been named "Best Content Marketing Solution" by the Software and Industry Information Association (SIIA) in the Business Technology category of the SIIA CODiE Awards. For over 30 years, the SIIA CODiE Awards has been recognized as the premier awards program in the software and information industries, awarding the innovation and development excellence of thousands of software, education, information and media products.
ExpertFile is the first SaaS software platform that helps marketing departments to organize their people-based content into search optimized profiles and to create relevant and timely featured content that is seamlessly integrated into client websites. The ExpertFile global online directory makes this content easily accessible to journalists through newsroom systems around the world by way of a distribution partnership with the Associated Press.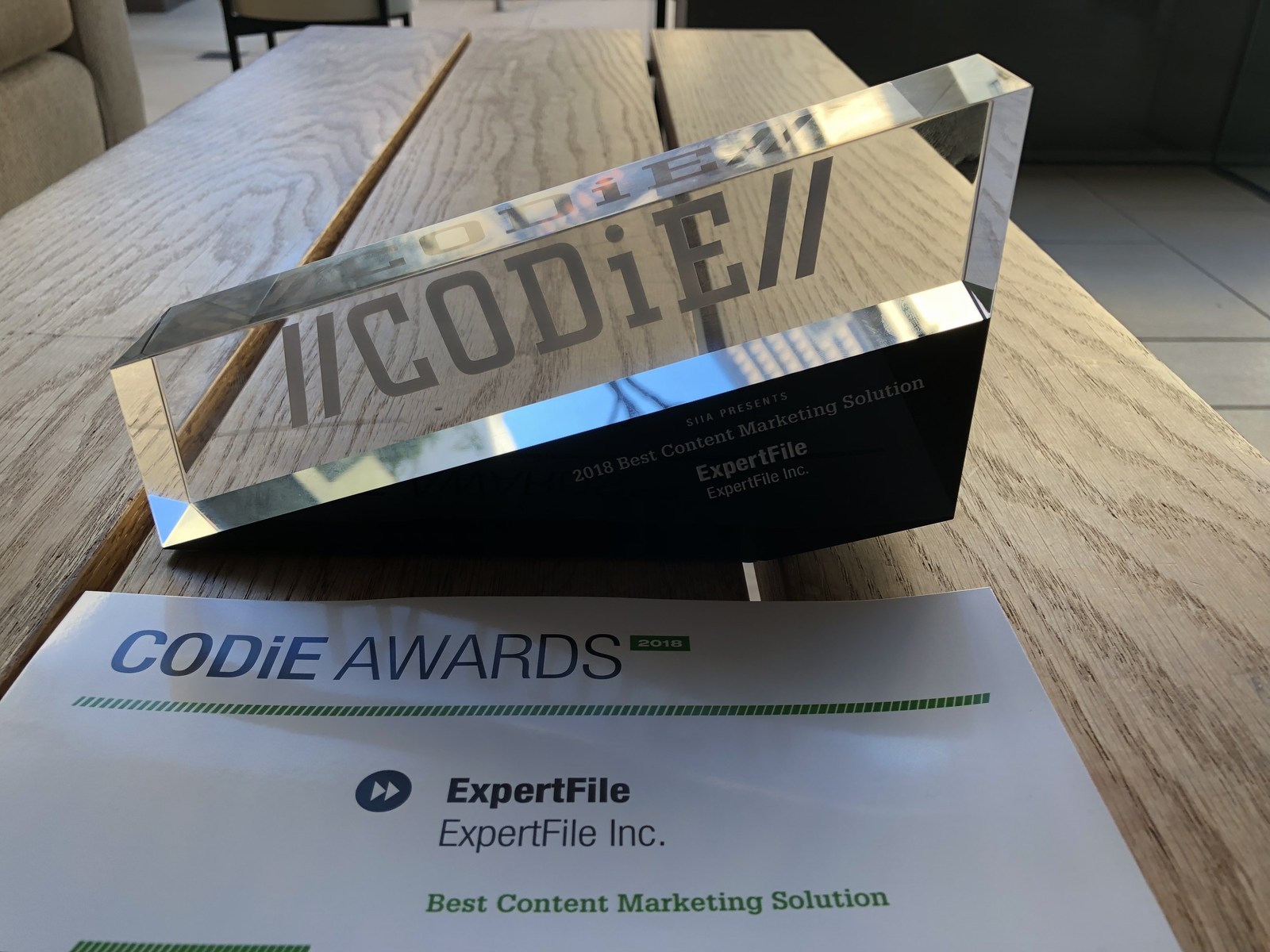 Peter Evans, CEO and co-founder of ExpertFile, received the award on behalf of ExpertFile last night at the 2018 Business Technology CODiE Award Celebration at the SIIA Annual Conference and SIIA CODiE Awards Celebration in San Francisco.
"We are honored to be recognized by the SIIA and our industry peers for giving a voice to experts worldwide with ExpertFile's platform and global directory. We are committed to making the business of promoting and finding great experts easier and more cost-effective," said Evans.  "Our platform provides the only solution designed for experts and their organizations looking to increase the visibility of their people and better manage their content for key audiences including media, event organizers, prospects and more."
Also Read: Movable Ink Extends Intelligent Content Platform with Developer-Friendly Tools and Marketing Cloud Integrations
The CODiE Awards nominations are reviewed by an independent expert team and finalists receive a second round of peer review by SIIA member companies. The winners represent the best products, technologies, and services in software, information and business technology.
"Receiving this CODiE Business Technology award means a great deal to us, especially to be evaluated and recognized by our industry peers," said Robert Carter, co-founder and vice president of product at ExpertFile. "ExpertFile's development team is very proud of the work we're doing to transform the way organizations are promoting their most valuable resources, build innovative ways for experts and their work to be found, and offer practical ways to manage that engagement in real-time."
Since 1986, the SIIA, the principal trade association for the software and digital content industries, has recognized the innovation and excellence of thousands of products, services and solutions.  The SIIA CODiE Awards is the only peer-reviewed awards program to showcase the business and education technology industry's finest products and services. Notable winners in past years include Thomson Reuters, Microsoft, Adobe and UberFlip. The awards recognize 91 categories of innovation across business technology and education technology. This year, ExpertFile was honored as one of 167 finalists across 52 business technology categories evaluating products and services deployed specifically for B2B software, information and media companies.
Recommended Read: ContentlyOne Unveiled to Deliver Intelligent Content for the Entire Customer Journey