Salesforce Clubs AI and Creativity to Transform Email Marketing Automation; Delivers Enhanced Interactive Features
Email Marketing is the most reliable investment that CIOs and CMOs make for their organizations. We often hear from our CMO guests during the Martech interview series how email marketing helps to connect with the customers and amplify sales through effective messaging. However, email marketing can certainly be better, especially when we are chasing the new definitions of Customer Experience everywhere else! In marketing, sales and customer service, email messaging with a personalized touch can help marketing teams to build a more human and personalized relationship with customers.
Today, marketing cloud provider Salesforce has reinvented the email marketing automation suite for its customers. In an official blog, the leading B2B marketing and sales technology software provider announced new Marketing Cloud email innovations. These martech enhancements are mostly based on several Einstein features, in addition to simplified interactive email integrations following the Rebel acquisition. The productivity updates will enable marketers to more efficiently personalize email campaigns with an improved customer engagement.
Recommended: Teradata Unifies IT, Marketing, and Customer Intelligence into Single CDP; Launches Vantage CX
What Took 2 Weeks Earlier; Now Do it in 2 Hours
Yes, email marketing automation takes time. The most painful part of building an email campaigns is the way marketing teams start from the scratch. Despite the availability of templates and recurring email notification alerts, email marketing teams fail to optimize the effort and to reduce manual effort. Smart technology users know the value of using tools and solutions to reduce manual effort. Relying on automation powered by AI and machine learning can help speed up mundane things. If you look back into the years between 2000-2010, writing an email copy was the most critical part of holding a Marketing-cum-Sales job. It still is, to an extent –but letting AI, as smart as Salesforce Einstein could simplify the whole process of email rafting and copy-writing.
Salesforce Email marketing automation platform will now allow marketing teams to create unique email marketing journeys for every customer.
The features include —
Journey Templates
Email marketing teams can create 'journey templates' for each email campaign. These can be shared across the organization to quickly build and deploy campaigns. Backed by Einstein, marketers will be able to create contextual journey templates with recommended content, text or journey paths as campaigns are deployed.
Testing and Validating
A/B email testing is a good way to full-proof every campaign. Testing and Validating tool in Salesforce email automation helps marketers to lose their "poorly formatted text, the wrong name in the greeting line or a terribly irrelevant offer". Missing all these would often lead marketers to annoy and lose a customer.
Thanks to the new feature from Salesforce, users can perform automated testing and validating to stay clear off manual errors and other recurring issues that previously jeopardized the email campaigns – for example, writing the wrong subject line, or inserting the wrong landing page link the email copy.
At the time of this announcement, Tim Delles, Senior Manager for Email Strategy and Innovation at Orvis, said, "Email plays a huge role in the customer experience–starting with understanding our customers through deciding what we should be talking with them about. Salesforce's AI-powered content selection feature allows us to curate highly personalized conversations within our marketing email. We've been able to rethink our approach to email as we continue to think outside the box."
Salesforce's latest enhancements to the email marketing automation is entirely powered by Einstein AI. Einstein AI can optimize everything across images, copy and optimal send-times to improve customer engagement.
The latest Einstein innovations help marketers to spend more time creating innovative Email Marketing and Advertising campaigns that will resonate with customers.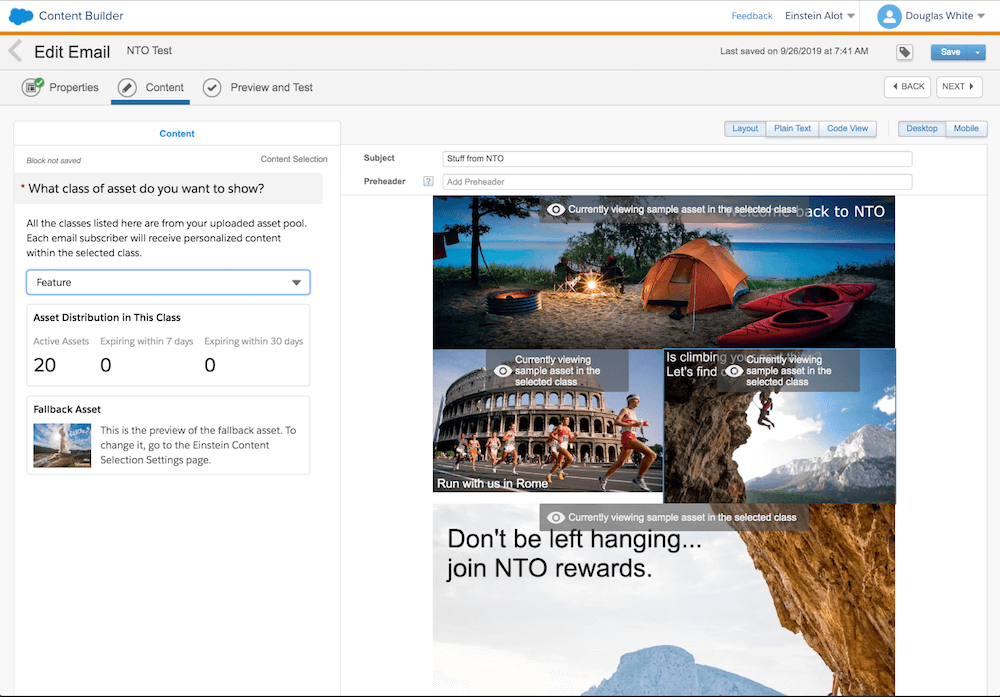 Quick Overview of the New Email Marketing Automation Features
Einstein Content Selection
Automatically recommends which visual assets to use throughout every part of an email, personalized to customers based on their preferences and behaviors. Marketing emails have different images and content that are placed strategically to get a customer to take action. Einstein Content Selection takes the guesswork out of what images to use and where to place them.
Einstein Copy Insights
Uses natural language processing (NLP) to find the best words and phrases to include in email subject lines, text messages and social media copy to attract customers and encourage them to interact with marketing messages. Developing enticing subject lines, text messages and social media copy can be a guessing game. Marketers will be able to get insights about what copy is landing with their audiences and receive recommended replacements to optimize their messages.
Recommended: Is Person-Based Marketing an Upgrade to ABM?
Einstein Messaging Insights
Notifies marketers when email journeys or messages are under-performing or over-performing and recommends actions to improve the effectiveness of email campaigns. For example, Einstein Messaging Insights can share an alert when the open rate for an email campaign is lower than expected. The feature presents correlated factors contributing to low performance, such as a lack of personalization in the subject line. It also recommends actions to take like adjusting the send date to boost engagement.
Last year, Salesforce had acquired Rebel, a leader in interactive email. Built on the native Rebel's technology integrated into Marketing Cloud, Salesforce's new email marketing automation platform will be commercially available in Pilot early next year. In 2020, post-launch, email marketers will be able to leverage the new Interactive Email feature when building personalized email marketing journeys with Email Studio and Journey Builder to drive engagement.
Read Also: Blockchain in Advertising: The Implications for Every Player in the System