Information Builders Named a Leader in Ventana Research's 2019 Value Index for Mobile Analytics and Business Intelligence
Industry-Leading Scores for Manageability, Capability, and Reliability Earn Designation in Three Categories
Information Builders, a leader in business intelligence (BI), analytics, and data management solutions, announced that the company received the overall top score for Manageability, as well as strong scores in Capability and Reliability, resulting in its designation as a Value Index Leader in Ventana Research's 2019 Mobile Analytics and Business Intelligence Value Index.
@infobldrs earns top marks for Manageability & named a Value Index Leader for strong scores in the @VentanaResearch 2019 Value Index for Mobile #Analytics & #BI Value Index: http://ow.ly/uZuK30nM344
As the workforce becomes increasingly mobile and dependent on mobile devices even in the office, Ventana Research's 2019 Value Index for Mobile Analytics and Business Intelligence aims to help organizations evaluate which BI and analytics tools will best support their needs on those devices now and in the future. For the Value Index, Ventana Research takes a quantified, research-based approach to evaluating 15 vendors' solutions across a variety of evaluation categories, of which Information Builders was named a Value Index Leader for three.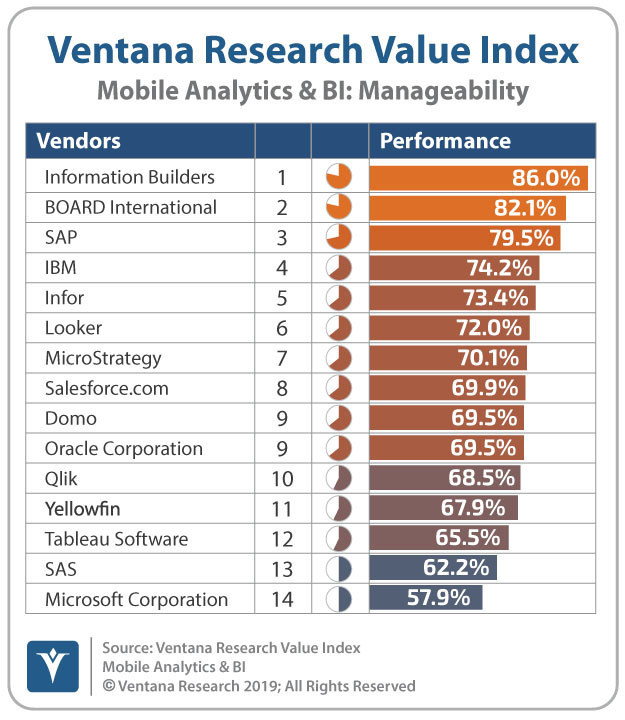 Marketing Technology News: Alterra.ai Introduces Answer Bot for Zendesk to Help Businesses Automate Customer Support
Information Builders earned the highest overall score of 86 percent in the Manageability category, resulting in its designation as a Value Index Leader for the category. Manageability evaluation criteria are critical to the success of a project as they are intended to ensure that the product will meet both "business and IT needs for installation, deployment, and administration." This includes IT administration and business support; security provisioning, audit and compliance capabilities; and requirements for licensing, subscriptions, or maintenance.
Information Builders was also named a Value Index Leader for industry-leading scores in the Capability and Reliability categories. The report noted Information Builders' breadth of mobile capabilities available via WebFOCUS, allowing end users to interact with analytical content whether online or offline. This companion application to the company's WebFOCUS BI and analytics platform supports organizations' hybrid approach to BI and analytics with rich user experiences and collaboration on the go.
Marketing Technology News: Adtelligent Launches Fully Self-serve Header Bidding Platform for Publishers
David Menninger, senior vice president and research director, Ventana Research, said:
"The Ventana Research Value Index assesses the value offered by mobile analytics and business intelligence vendors and solutions based on their ability to address business needs versus simply providing features and functions – a strong distinction from other industry analyst rankings. After careful evaluation of hundreds of criteria, this year's index revealed that Information Builders is among the highest scoring vendors in the market for mobile BI and analytics solutions and delivers the strongest functionality for the management of those solutions."
Frank J. Vella, chief executive officer, Information Builders, said: 
"It's no surprise that mobile BI and analytics is becoming an increasingly important element for data programs. Workforces need access to data for decision-making whenever and wherever they work. Information Builders will continue delivering solutions that not only match these business requirements, but also anticipate and support future market needs for delivering trusted data for analytics at scale."
Marketing Technology News: Marketing Technology Bulletin Covering the Week Gone By