CustomerGauge Announces Best B2B Customer Experience Award Winners—Coca-Cola HBC, Heineken, Dun & Bradstreet, Amongst the Nominees
Nominees demonstrated excellence in B2B Account Experience programs based on validated benchmark set of 1000s of B2B companies globally
CustomerGauge, the leading provider of B2B Account Experience (AX) software and solutions, revealed the annual list of B2B companies with top-performing B2B Customer Experience programs.
Marketing Technology News: Manufacturing Brands Let 46% of MDF and Co-op Funds Go Unspent and Lose Local Sales Opportunities
As the B2B market evolves, it's critical these awards recognize the companies with exceptional B2B customer programs to help set the example for other aspiring B2B companies looking to better serve their accounts.
Now in its second year, the Account Experience Awards ranks the best B2B companies to do business with globally based on their commitment to B2B experience excellence. The rankings are validated by CustomerGauge's industry-leading B2B experience benchmarks database, which contains data like NPS scores for thousands of companies.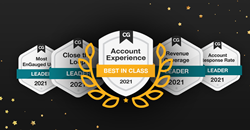 This year, B2B companies were ranked on a select group of key program drivers that a panel of experts at CustomerGauge determined critical to B2B Experience program success:
Account Response Rate—The % of accounts who complete feedback surveys
Close the Loop Rate—The speed and coverage that feedback is acted upon
Revenue Coverage—The % of revenue-base that's covered with customer feedback
EnGauged User Base—Time to value measured frequency of employee engagement with AX technology
"The B2B Account Experience Awards are always a highlight for me each year. It's a great opportunity to recognize the hard work and dedication our top customers put into their programs and celebrate their continued success in the B2B experience space," said COO and Co-Founder of CustomerGauge, Camilla Scholten. "As the B2B market evolves, it's critical these awards recognize the companies with exceptional B2B customer programs to help set the example for other aspiring B2B companies looking to better serve their accounts."
Based on CustomerGauge's benchmarks, the Leaders in B2B Account Experience this year are:
Coca-Cola HBC
SimCorp
Briggs Equipment
Zander Insurance
Unilode
Engro Polymer & Chemicals Ltd
Aspira
Marketing Technology News: MarTech Interview with Michael Kraut, VP of OEM for Automotive at Experian
Additionally, the High Performers in B2B Account Experience this year are:
Heineken
SugarCRM
Dun & Bradstreet
Wolters Kluwer
Arvato
Friss
Royal Vopak
IDEXX
Neos Networks
Arcserve
Norican Group
Owens and Minor Halyard