Projecis, Inc., a content management and data visualization software company improves upon its remote audit capabilities (RAC) embedded within key features of its collaborative platform. Interest in these tools has increased during the COVID-19 pandemic as quality assurance (QA) and regulatory teams are tasked with performing audits and compliance reviews remotely since travel and onsite meetings have been largely restricted.  IT and QA managers can also note that the solution is 21 CFR Part 11 and GDPR compliant.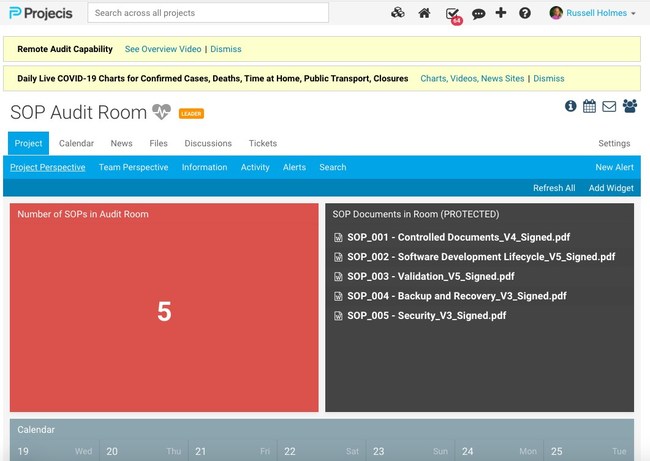 Marketing Technology News: Splash Collaborates with Adobe to Deliver a Comprehensive Event Marketing Platform
Virtual audit rooms can be constructed on a case-by-case basis, with documents and other content being securitized as necessary.  Content access can be restricted based on company, role, and even individuals.  Documents can be protected from downloading and printing, while specific permissions allow for monitoring document activity to track who, when and what version has been viewed.
"The platform allows us to maintain a data room to provide access to our confidential information for investment, scientific, and medical review," says Saira Bates, CEO of Escend Pharmaceuticals. "The flexibility with securing documents and the ability to monitor who has accessed documents, and when, have been a tremendous help when working with the various reviewers."
Marketing Technology News: Listrak Announces Inaugural Revenue Gap Index to Support Retailers
Importantly, the "Binder" feature in Projecis provides for custom folder generation and loading of all types of content for delivery to remote auditors and QA personnel.  A shared Binder link can be sent to the appropriate reviewers to give access to common audit documentation such as SOPs, training logs, CVs, and key email discussions.  Binder documents cannot be downloaded or printed.
Video conferencing and screen-share capabilities are also included within the solution for remote meetings.  The Zoom-like features are available to all team members for instant collaboration.
Marketing Technology News: Mobile Advertising Soared 71% Year-over-Year, According to PubMatic Report