YouTube and Instagram Gaining Ground Among Social Media Users, According to New Survey From The Manifest
Most People Use YouTube and Instagram More in 2018 Than 2017, Outperforming Other Channels Such as Facebook. in Addition, Women Tend to Use Social Media More Frequently Than Men
People tend to use social media – particularly YouTube and Instagram – more in 2018 compared to 2017, according to a new survey from The Manifest, a business news and how-to website.
Nearly two-thirds of social media users report they use YouTube (63%) and Instagram (61%) more in 2018 than 2017, compared to 52% who say they use Facebook more this year.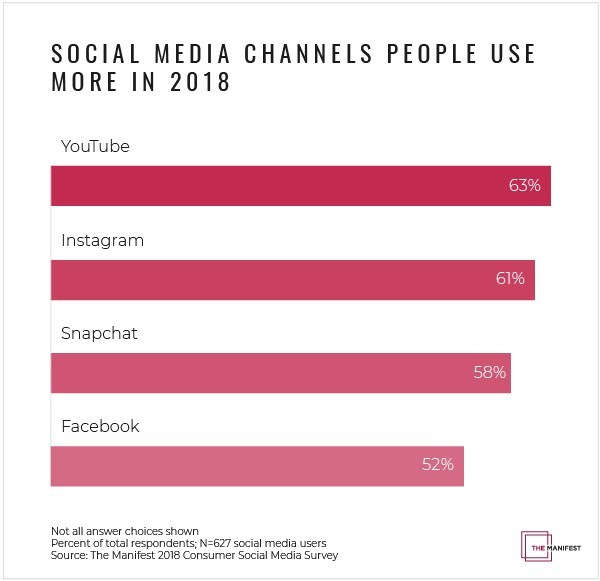 "Instagram and YouTube have very strong user bases," said Charlotte Chipperfield, founder and CEO of Chipperfield Media. "[These channels] serve as entertainment platforms first."
Also Read: 21Vianet Blue Cloud Joins Hands With Microsoft, Partners to Build Intelligent Cloud Ecosystem in China
Facebook Remains the Most-Used Channel
Although people use YouTube and Instagram more often this year, most people still use Facebook at least once a week.
Eighty-two percent (82%) of people use Facebook, compared to 75% who use YouTube and 53% who use Instagram.
Facebook is powerful as a social media channel because it is one of the oldest and most-established channels.
"[Facebook] has been defaulted to people's home on the Internet; it's the other Internet," said Josh Loewen, digital marketing director of The Status Bureau, a digital marketing agency in Vancouver. "When people think of where to go and what media to consume, they go to Facebook."
Facebook remains popular, but YouTube and Instagram's usage is growing.
Daily Use of Social Media Is Norm for Most People
Social media is part of most people's everyday lives: 86% use it daily, and 72% use it multiple times per day.
"Social media is a large part of everybody's life," Loewen said. "It's how people communicate, look for events, notice stores and brands, and find the weather. It's how people are aided in their daily life."
Also Read: Salesforce Strengthens with Fastbase Integration to Create the Best Lead Generation Solution for Businesses
People Use Mobile Apps and Computer Web Browsers to Access Social Media
People use multiple methods to access social media – mobile, computer, and tablet apps in addition to web browsers and smartwatches, but the most popular are mobile apps and computer web browsers.
Most social media users access social media from mobile apps (67%) and computer web browsers (57%).
"We have our phone on us at all times and our computer in front of us the other part of the time," Loewen said. "They're both really accessible mediums."
Gender Dictates Frequency of Social Media Use
Seventy-five percent (75%) of women use social media multiple times per day, compared to 64% of men.
This is attributed to the greater appeal social media has to women and their interests, experts say.
"The amount of content out there on the Internet and on social entertain women more than they would men," said Joseph Rothstein, account manager at Social Media 55.
The Manifest's 2018 Consumer Social Media Survey included 627 people in the U.S. who use social media at least once per week.
Recommended Read: StarfishETL Releases New QuickBooks and Sugar Integration