Social Media Marketing is a very important form of internet marketing. In recent years, Social Media Marketing (SMM) tools have earned respect from global CMOs who acknowledge SMM tools as key success-driver of their Marketing Technology stacks. The SMM tools today are as much deep-rooted into B2B marketing campaigns as they were in B2C some 5-6 years ago. In addition, these are not seen as mere marketing tools, but also as engagement and advocacy platforms connecting employees, brand affiliates, influencers, fans, and loyal customers together for more connected user experience on mobile and desktops. But, Social Media Advertising seems to have a very different impact on sales earned from distinctly sales-driven economic zones.
In its latest report, Facebook has found out the impact of social media marketing and advertising apps on business outcomes. In the EU, Facebook apps helped organizations earn USD 228 billion in sales last year. In addition to sales, the app-driven economy also generated more than 3 million jobs in the marketing technology industry.
This finding approves our belief that Social Media channels are the true indicators of "urbanization" of internet commerce. According to Hootsuite's The Global State of Digital in 2019 Report, we witnessed a growth of 9% in the number of social media users worldwide. The total number of social media users is currently pegged at 3.4 billion, a majority of these use a mobile device to stay connected on social.
Top MarTech News: Evergage Jumps Into The Salesforce Economy; Bought To Improve Hyper-Personalization In Sales
Region-wise, Europe and North America have the highest internet penetration in the world. Despite recent mass-purge news about Facebook, the social media app continues to rule the roost. Marketing tribes, in particular, are fond of promoting their brand and user engagement initiatives on Facebook and its app family– Instagram, WhatsApp, and Messenger.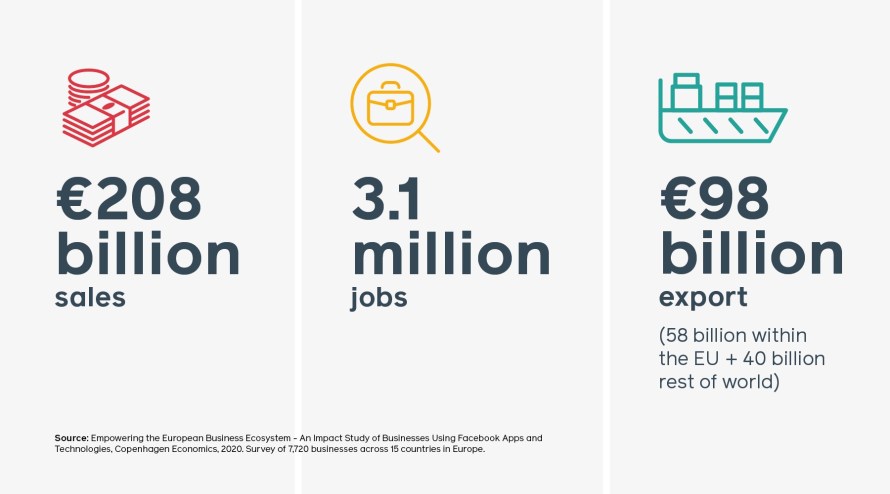 The Role of Facebook Apps Beyond Marketing and Sales
The Facebook App Impact report showcased unique opportunities for marketing and sales companies in the EU region. It highlighted how businesses of all sizes and scale leverage SMM tools to not only grow their sales and enhance brand visibility but also develop the channel as a "trusted" forum to build communications with customers, derive customer insights and reach to new users in newer markets.
Blog: MarTech Interview With Tiago Paiva, CEO At Talkdesk
According to a recent SproutSocial report, a majority of marketing teams have realigned their social media marketing initiative to foster a "balance" between social data analytics and customer engagement. The media could also be used to highlight the unique aspects of running a business, including gender diversity, inclusivity and corporate social responsibilities toward climate change, conservationism, and events that impact global and local companies, like in the case of Australian Bushfire and current Corona Virus outbreak.
Facebook App report found that female entrepreneurs are particularly fond of Social Media Marketing channels. 58% of woman-founded businesses credit Facebook apps for enabling them to start businesses. 65% said that Facebook and its app products helped them grow their revenue.
Key Highlights Marketing Tribe Should Know About Facebook's Impact
–  Business Leaders acknowledged Facebook apps' impact on their overall operations — reducing the costs of marketing and sales, reducing the barriers to entrepreneurship, expanding the reach of export markets, and facilitating innovation within businesses and throughout industries.
–  Facebook apps and technologies, facilitate business growth, trade, and innovation in the Martech Economy.
–  58 percent of the surveyed participants state Facebook apps are helpful in lowering their marketing costs; 55 percent consider them instrumental in entering new geographical markets.
–  Surveyed businesses credit USD 63.5 Billion (EUR 58 billion) worth of exports within the EU and USD 43 Billion (EUR 40 billion) worth of exports outside the EU to the use of Facebook apps and technologies.
Future of Facebook Apps
Facebook is facing stiff competition from emerging social media and communication platforms, especially the ones emerging from China and South East Asia. The good thing about Facebook apps is that it has continued its 'social everything' mission with its most loyal customer base– the younger generation who are between 15-27 years of age. Powered by AI, Chat, Video and Voice technologies, Facebook apps would continue its popularity with users, as well as stick to the top of the list for CMO's social media marketing technology stacks in the next 3-4 years.
* Facebook's impact on the European economy, we commissioned a study by Copenhagen Economics, one of the leading economic firms in Europe. The study surveyed over 7,700 businesses across all industries and sizes in 15 countries. The study is commissioned by the Facebook Company.
Read More:  Hmmm, So Google Cloud Platform Earned The Company $8.92 Billion As Revenues In 2019