CMOs Asked for Voice Call Integration with CRM. Salesforce Delivers It with a Touch of AI.
Martech Leader Salesforce Announced Service Cloud Voice to Sync Voice Calls and Digital Channels into CRM Data
Salesforce's latest product launch would put any Customer Success agent on a high. Salesforce customers can now leverage Salesforce CRM to harness voice call data and analytics for their marketing and sales campaigns. The new Cloud platform is laced with new-age capabilities, including AI recommendations, speech-to-text transcription, omni-channel Customer Intelligence connected to the Salesforce CRM.
Recommended: MarTech RADAR 2019: Top 250 B2B Technology Companies …
Today, Salesforce Service Cloud Voice is making its debut at the Dreamforce 2019 (#DF19). With this new Cloud product, customers can also connect their Twitter and other digital messaging platforms to find what content engages their audience the most. Salesforce users can organically engage with audience on Twitter with personalized brand messages, encouraging every individual to consume videos, knowledge articles and discussion forums online. In short, Service Cloud Voice will provide a consolidated console to amplify brand messaging, keeping telephony and mobile conversation at the center of every brand-user interaction. AI-based chatbots and virtual assistants are also included into this Cloud offering from the world's most powerful CRM.
Why Salesforce Decided to Dive into Voice + CRM Data Platform?
Salesforce, with its elite technology community of marketing leaders and  trailblazer developers, identified the real problems every CMO and their team face in the current omni-channel environment. Despite the emergence of CDPs and People-based marketing analytics tools available to CMO, telephony data and connectors stayed isolated from CRMs. According to the Salesforce State of Service 2019 report, 95 percent of service teams offer customer service via phone and 93 percent of customers still rely on it, with many turning to the phone as a last resort after first trying a different channel. Clearly, telephone remains an important marketing channel to reach customers.
Salesforce Service Cloud Voice, a new product that will modernize the contact center by embedding telephony inside Salesforce Service Cloud.
Answer Every Customer Inquiry with AI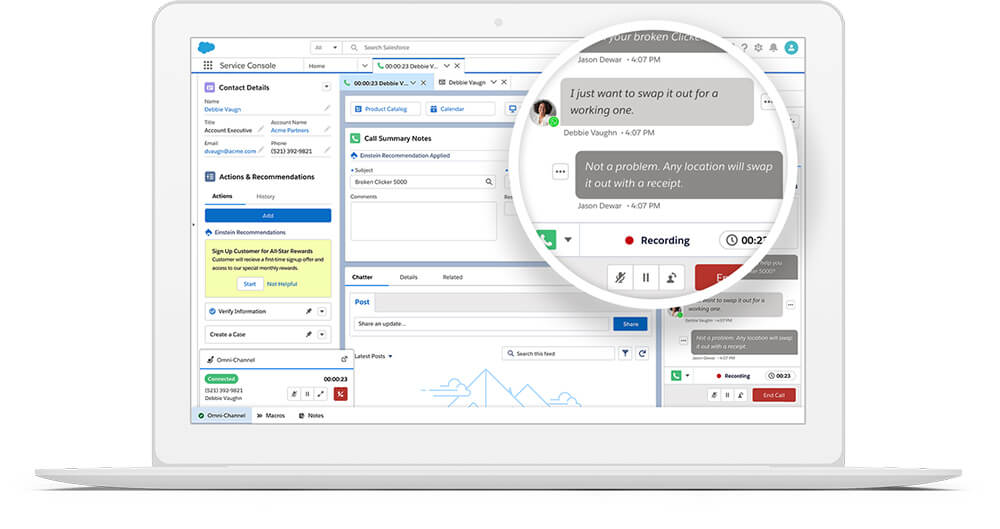 Phones were kept out of innovation in the way CRMs have grown. Salesforce understood the gap, and pounced on the opportunity to come out with a powerful voice call integration in its Service Cloud offering.
Voice Service Cloud could unravel unique insights hidden in every voice call interaction. Thanks to Salesforce's AI platform, the Voice Call integration would allow CMOs to get a consolidated view of every customer interaction across multiple systems. Most companies use use multiple systems to run their contact centers, and that's why Voice Service Cloud is best to handle what every agent is communicating to the prospect or customer.
Contact center agents would be able to save hours that were earlier lost to making notes and transcriptions, and other non-automated menial activities. With Salesforce's AI capabilities, customer success reps would not only be able to understand every call detail but also plan their next telephone/ email outreach using contextual messaging provided within the Service Cloud.
Choose Your Own Customer Contact Touch-point
Salesforce is enabling every marketing team to choose its most powerful contact center.
Service Cloud Voice unifies phone, digital channels and CRM data in real-time in one centralized console.
CMOs would realize the potential of their telephony systems and CRM by leveraging a single, powerful console for every customer interaction. It will automatically eliminate the need to toggle back and forth from multiple screens and find manual workarounds.
With automatic AI-based voice and text analytics, contact center agents need not worry about inaccurate transcriptions. Voice Service Cloud, with its automatic transcription capabilities, enables agents to focus on what actually matters — addressing the customer's needs quickly and accurately.
In addition, AI-powered agent recommendations provided within the Service Cloud console, reduces average call time and enhancing customer experience on telephone. This is powered by Einstein AI.
A Practical Omnichannel Platform for Every Interaction
When a customer calls, the automated platform would route the line to the best customer contact center agent. The agent/ rep would have a clear view of the history of conversations with the customer on the CDP/ Voice Call analytics console. Every speech is converted to text in real-time. With AI-powered text analytics linked to CRM and Voice call data, the contact center agent would be able to provide a contextual, real-time message to the customer, based on the position of the customer in the purchasing journey.
With the call converted to text, Einstein AI can go to work by serving up recommended responses, knowledge articles and next best actions to the agent. A new supervisor console lets managers monitor, step in, and provide assistance, and the call transcript is attached to the customer record for future reference. All of this adds up to a better experience for both customer and agent.
Out of Box Solution Delivered with AWS
Salesforce is providing the platform within the AWS ecosystem, allowing Salesforce partners and customers to choose which solutions work "best for them."
Salesforce is partnering with AWS to integrate and offer Amazon Connect inside of Service Cloud.
At the time of this announcement, Bill Patterson, EVP and GM, Service Cloud said,
"Delivering great customer service consistently can be challenging for companies, especially when call volume is extremely high and queries are becoming increasingly complex. These latest Service Cloud innovations will help companies meet these rising demands, and empower phone agents to focus on the human side of service — solving difficult problems for customers, and doing it with empathy."
Industry Insights on Salesforce Voice Service Cloud
"With new customer service channels springing up continually, it's important that IT and contact center leaders focus on creating a holistic environment. The phone remains a significant channel of interaction for escalation purposes and for complex issues," said Mary Wardley, Program Vice President, Loyalty and Customer Care, IDC.
Mary added, "With the plethora of available channels of interactions – particularly digital – by the time a customer places a call to a company they have likely already tried and failed to solve their problem elsewhere, making it all the more crucial that the agent is equipped to answer their question quickly, accurately and in context."
Tracy Kelly, AVP, Shared Services Contact Center, John Hancock., said, "As a financial services company, we know a lot of the interactions our contact center agents have with customers will be about sensitive topics. Service Cloud provides our agents with the right tools to deliver personalized, human-centered service when they need it most."
To participate in our Dreamforce stories and round-ups, write to us at news@martechseries-67ee47.ingress-bonde.easywp.com