This playbook leverages on Zuddl and ETP's expertise in executing hundreds of hybrid and virtual events, to outline a framework for successful events.
Zuddl, a virtual and hybrid event platform company with presence in USA, India and the UAE, launched 'Hybrid State Of Mind' – a playbook to help event organizers and marketers organize hybrid events seamlessly. the ebook covers critical aspects of hybrid events like key pillars, different hybrid formats, as well as real-life case studies.
Marketing Technology News: Syntropy Announces the Issuance of Its Foundational Patent…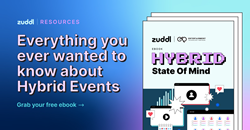 "The right hybrid strategy must empower the attendees to consume content at a time, format, and place of their choosing, while the best hybrid strategies also enable the remote attendees to contribute content as much as consume it."
This ebook is targeted towards event planners and organizers who are either just starting out with hybrid events, or have some experience with this format, but are looking to take their attendee experience to the next stage.
Marketing Technology News: MarTech Interview with Jeff Fagel, CMO at MadHive
Stressing the long-term relevance of virtual events, Bharath Varma, CEO and co-founder, Zuddl said, "It's clear that hybrid events are going to play a pivotal role for businesses of all sizes, no matter the industry, because of the benefits and convenience they offer". He further added, "We're seeing more customers adopt hybrid as a primary approach to their internal and external events, as it ensures that while the folks who are comfortable attending in person, the virtual attendees also get a top class, latency free experience".
Another notable takeaway from the ebook is the importance of event planners to cater to the needs of the ever-evolving attendee or customer. BJ Singh, President of Entertainment Technology Partners, LLC further substantiated this with the following statement: "The right hybrid strategy must empower the attendees to consume content at a time, format, and place of their choosing, while the best hybrid strategies also enable the remote attendees to contribute content as much as consume it."
Marketing Technology News: Disney+ to Introduce an Ad-Supported Subscription Offering…