Joseph Goodyer to Drive AireSpring's International Expansion Initiative
AireSpring, a leading Managed Services Provider specializing in Managed IT, Network Services and Unified Communications, is pleased to announce that Joseph Goodyer has joined the team as Vice President of Global Connectivity. Joseph will lead the expansion of AireSpring's international connectivity partnerships and global reach.
Marketing Technology News: Mindbreeze is Recognized again on KMWorld's Top 100…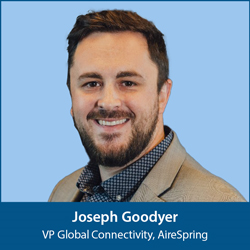 Joseph brings a wealth of experience to the AireSpring Global Connectivity team along with a passion for driving global growth and providing innovative solutions. He will be instrumental in leading our Global Connectivity initiative and growing our international presence.
Joseph began his career in telecommunications in 2009 at Global Telecom and Technology (GTT Communications). While at GTT, Joseph helped drive their successful international growth initiatives.
Marketing Technology News: MarTech Interview with Daniel Incandela, CMO at Reachdesk
Joseph left GTT to join Advantage Communications Group, LLC, where he spent several years as Director of International Sales, further developing their international expansion initiatives. Joseph then moved on to CMC Networks joining their Johannesburg, South Africa office as Americas Manager and Senior New Business Development.
Prior to joining AireSpring, Joseph led the international expansion strategy as Managing Director at Brodynt (now Expereo) where he focused on their North American global growth initiative.
Joseph holds a bachelor's degree in Business Management from Sheffield Hallam University, UK and has been named by Capacity Media as one of the Top 100 Most Influential People in Telecom every year since 2019.
"Joseph brings a wealth of experience to the AireSpring Global Connectivity team along with a passion for driving global growth and providing innovative solutions," stated Avi Lonstein, AireSpring CEO. "He will be instrumental in leading our Global Connectivity initiative and growing our international presence."
Marketing Technology News: MarTech Interview with Annie Wissner, CMO at Whispir