If 2018 belonged to Instagram Advertising brands, 2019 is going to be the year of TikTok content marketers. In less than two years of its launch, this ByteDance video-sharing product has already become one of the most downloaded app of the year. In 2018, TikTok surpassed the app downloads recorded by PUBG Mobile, YouTube, WhatsApp and Instagram in the same period. This despite a brief ban on its Marketing and Services due to security and censorship policies. ByteDance is among the most high-valued startups in the tech industry. With origin in China, the company has diversified to holistic Marketing Technology, recently announcing a new search engine, Toutiao Search. Toutiao Search is an extension of an existing news aggregator which is also owned by ByteDance.
TikTok Content Promotes User-Generated Emotions; AI Brings it to The Audience
GlobalWebIndex reported that TikTok users are young, with 41% of them aged between 16 and 24.
In a serotonin-driven mobile experience industry, TikTok is a must-explore Marketing platform to engage Gen Z audience, especially the ones who consume and share more videos than other age-groups. Since the time Tik Tok bought out Musical.ly back in November 2017, the app has grown in size, scale, and technology. Today, it boasts of deploying AI and Face Recognition technology to analyze user's interests and preferences through their interactions with the content, and display a personalized content feed to each user. TikTok's parent company had also acquired an AI-generated music startup called Jukebox. Jukebox is an AI suite that generates custom music for the audience.
Read Also: Blockchain in Advertising: The Implications for Every Player in the System
This might sound like a shock, but video bloggers, influencers and content marketers are yet to fully recognize TikTok's true branding and targeting potential. In a Gartner post, it was reported how TikTok's massive popularity made headlines at VidCon. The tables are turning for TikTok's consumers who could be looking for an immersive and personalized video sharing platform beyond the YouTubes, Facebooks, Snapchats and Instagrams.
TikTok is unique in its offerings, enabling any user to mimic engaging content that suits all types of audiences.
Read More: Content Recommendation Platforms Taboola and Outbrain Merge to Disrupt "Global AdTech" Ecosystem
Is TikTok a Viable Marketing Platform?
We are yet to speak to an industry leader about TikTok's future in MarTech and AdTech. But, the trends in user-generated content and news sharing highlight a definite opportunity for brands.
These stats should make any marketer pounce the opportunity.
TikTok users spend an average of 52 minutes per day on the app
TikTok brought in $3.5 million in revenue over 2017, 42% of which came from the US, 39% from China (excluding Chinese Android users)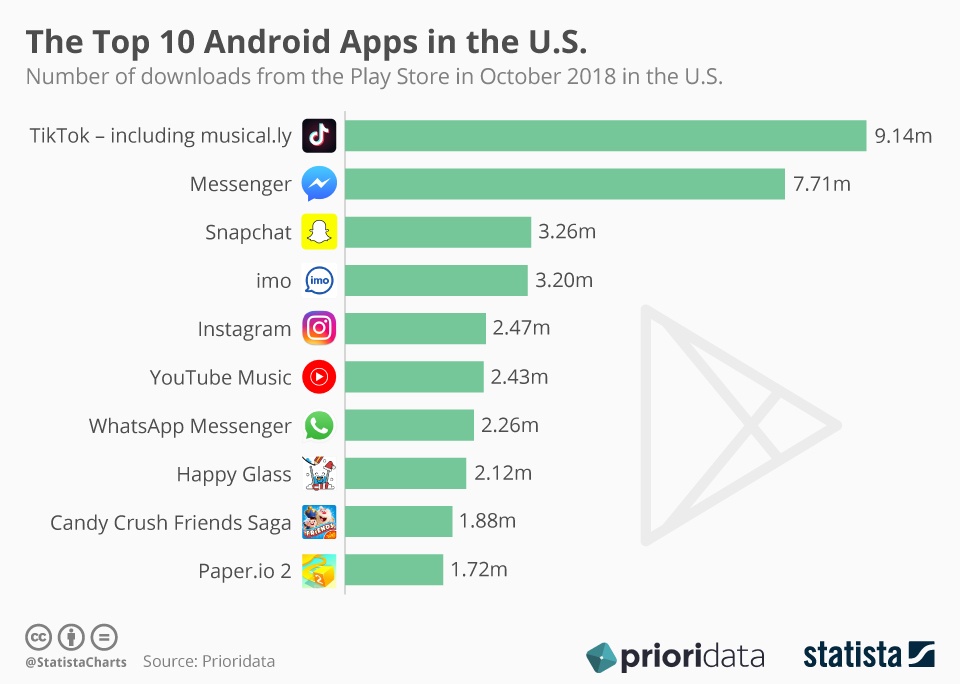 According to Statista/PrioriData, TikTok (including Musical.ly) was the most downloaded app from the Play Store in the US, beating Facebook's Messenger and Instagram together.
Read Also: Ad Fraud: The New Way to Launder Money