Will Salesforce Customer 360 Arrival Push CRMs and DMPs Out of Equation in 2020?
As we sink deeper and deeper into the 'Experience' economy, it's getting even more noisier in the MarTech ecosystem with the coming of age for Customer Data Platforms (CDPs). Last month, SAP threw their hat into the CDP ring and now, this week, it's Salesforce's turn to disrupt the MarTech flywheel for CRMs and DMPs.
Salesforce has announced its new-age product, Salesforce Customer 360, to enhance Data Management across all omnichannel Cloud offerings. Salesforce Customer Data platform was announced in Dreamforce 2018, and it took almost ten months for the #1 CRM company to align it with its concurrent Marketing Cloud solutions. Additionally, Adobe just announced the beta version of its platform and Oracle is rumored to debut its own very soon as well! In this anxious times for Cloud platforms connecting to CRMs and DMPs, we expect CDP providers to seize the moment and see a new line of MarTech customers who would invest in CDPs, pushing CRMs and DMPs to the backstage.
Can Customer Data Platforms Solve all Marketing Challenges?
According to Evergage, no CMO can deny that they need a CDP now or ever! According to the CDP Institute, industry revenues from CDP is expected to grow to $1 Billion in 2019. The major push will come from the collective technology innovations and marketing strategies of 29 new CDP vendors that emerged in the MarTech Radar in 2018. With SAP, Salesforce and Adobe taking the CDP game forward, linking real-time analytics and Cloud offerings together  for targeted and relevant personalization, the MarTech Equation for CMO's stacks will change very soon.
At least that's what Salesforce is promising to deliver here.
The company that adding new innovations to Customer 360 will help creating a comprehensive customer data solution for entire Marketing Cloud ecosystem. And, yes, it could solve the challenges that today's CDPs are trying to address and much more.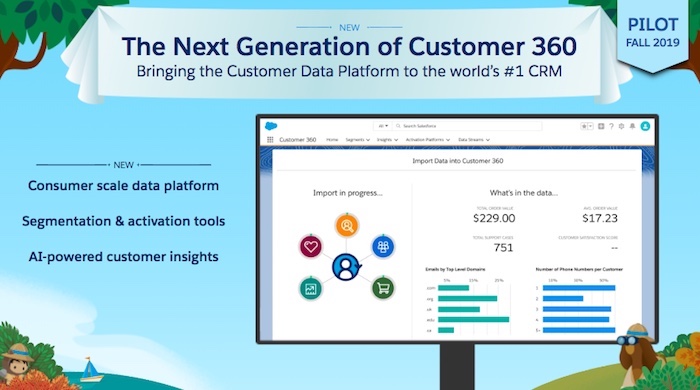 Why CDPs Rock the CRM Market?
CDPs are broad-spectrum MarTech platforms compared to CRMs and DMPs that come with their own legacies in many organizations. CRMs are designed to gather and analyze data from only one particular customer relationship channel, and that's where they falter in delivering relevant 360-degree customer experience that most modern marketing teams are craving for, today! CDPs bring data from every customer interaction channel, streamlined and funneled into one single platform, and this directly translates into Sales-Marketing alignment that CMOs always prioritize. Better Sale-Marketing alignment deliver higher revenues and higher customer loyalty.
We are pursuing unified data, and not scattered data.
In 2017, Steve Lucas, CEO of Marketo (now, an Adobe Company) had said, this about CRM –
"The whole acronym – CRM – is fundamentally flawed because it implies that we get to "manage" our customers. They don't want to be managed, they want to be engaged. It's a fact that buyers are in now charge, and they demand brand experiences that let them feel valued, align with their values, and connect with them on a personal level. I call this concept the Engagement Economy, and succeeding in this new world means engaging with customers continuously – at every touchpoint, on every channel – throughout the entire lifecycle."
According to NGDATA, "A CDP maintains unified data. Add a dash of AI and Blockchain to it — and, voila, you have the most powerful Data Management platform ever conceived in MarTech. So, even if data is being captured from multiple channels, it will be tagged to a single customer…."
According to Forbes, "With a greater understanding of customer needs, as well as the ability to anticipate future needs, there's a higher likelihood that customers will become repeat customers. Forty-four percent of organizations surveyed by Forbes Insights report that a customer data platform is helping drive customer loyalty and ROI in their organization."
That's not alone.
Here is a quick snapshot of how CDPs have been changing CMO's tactics in the past few years.
CDPs Essential to Contextual Relevance and Interactive Customer Experiences
According to Tealium's CEO, Jeff Lunsford, CDPs are a very refined and customizable option for modern Marketing teams. He spoke to MarTech Series:
"As specialized enterprise software propagates throughout the enterprise, companies are also using an increasing number of software applications. Even companies that select an all-in-one suite for customer experience or marketing purposes will typically have ten more or more very critical systems outside that suite that they want to share data with. This challenge leads to the logical evolution of a vendor-agnostic, neutral data layer within the enterprise, which sits underneath and orchestrates data flows between these various suites and solutions."
Read Also: Hot Topics Recap: Cannes Lions 2019
So, what about the neutral layer in the CDPs?
Jeff explained, "The neutral data layer helps enterprises overcome classic data silo issues and allows data to flow freely across the organization. Enterprises that want to future-proof their tech stack and maximize the insights they can gain from their data would be wise to select a solution that enables data freedom and empowers them to quickly adapt to evolving customer needs."
Tealium is one of the pioneers in the CDP market.
In a recent interview, Lotame's Global VP- Evgeny Popov, said, "DMP by design has interoperability in mind thus allowing data to flow to any activation channel to allow omnichannel marketing. The key to this is connectivity across platforms and channels. At Lotame, we have our first-party connectivity suite which gives marketers the ability to collect data from online and offline sources, map it together, and determine the relationships that exist between billions of signals flowing from desktops, smartphones, tablets, and connected devices such as smart TVs. Our second and third-party data marketplaces, along with our Machine Learning look-alike modeling tool, allows customers to layer on additional profiles for scale."
Read More: Blockchain in Advertising: The Implications for Every Player in the System
B2B Market: That's where CDPs will Drive Customer Experience Economy in 2019-2024
Theresa O'Neil, CMO of Showpad: "Tech giants' moves to launch CDPs demonstrates the focus B2B companies are placing on creating streamlined, omnichannel customer experiences. Once the sales team gets involved, it's essentially a black box, with zero awareness of who the customer is and a lack of insight into previous interactions with content and other sales materials. With disjointed information, salespeople can't demonstrate unique business value, which thereby prevents them from hitting quota. And without bottom of the funnel data and analytics, marketing can't optimize content to support the sales team."
Showpad's CMO continued, "We need the same data analysis we have at the top of the funnel extended through the bottom of the funnel too. We're seeing more enterprise players invest in customer data management capabilities for risk of losing their customers with a disjointed omnichannel experience. Having prospect data aggregated and centralized from the first interaction will help salespeople and marketers provide an exceptional experience for the customer and at the end of the day, boost revenue."
Read Also: TechBytes with Vinayak Nair, VP Research Ops and Custom Analytics at Verto Analytics
Salesforce Customer 360: Belting Out Powerful MarTech Integrations Unified by Data, Analytics and Adaptability
In the official announcement, Salesforce  declared:
"When we introduced Customer 360, it was a new way for companies to connect Salesforce apps and deliver unified cross-channel customer experiences. In other words, Customer 360 represents a fundamental commitment on the part of Salesforce — including marketing, sales, service, and commerce — to provide a unified customer profile that can be used across our customers' organizations.
With Customer 360 we promised to deliver a unified ID. With it, companies can easily connect and resolve customer data across their various Salesforce apps. The ID points to a single customer (or other key entity), fires up deeper, more connected insights, and enables stronger engagement across the entire customer journey."
The Curve Ahead: AI, Automation and Migration to Big Data+ Blockchain
Salesforce made an acquisition deal with Tableau recently- adding powerful Data Science platform to its Marketing Cloud capabilities. Then, it also announced a significant upgrade to Pardot, their Marketing Automation platform. Together with Salesforce Einstein AI and Salesforce Blockchain CRM, we see their CDP platform creating a new roadmap for CDP market in 2020. If Salesforce is doing it, it's definitely going to become CMO's ubiquitous MarTech choice to build, grow and sustain in a customer-obsessed 'Experience' economy. Let's see how SAP, Adobe and Oracle Marketing Clouds  pace their innings in the hyper-personalized MarTech ecosystem in the coming weeks. Don't ignore Google's MarTech horizon, though!
Thank you, Jeff and Theresa for chatting with us, and providing deep insights into CDP ecosystem.
To participate in our editorial programs, please write to us at News@martechseries-67ee47.ingress-bonde.easywp.com
Recommended: Big Data Push to MarTech Continues as Google Taps Looker for $2.6 Billion